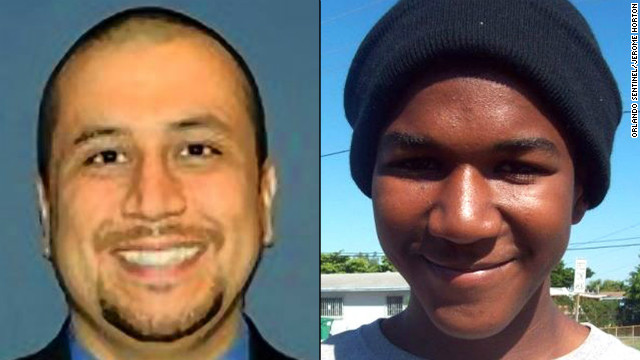 George Zimmerman, the Florida neighborhood watch volunteer who says he shot Trayvon Martin in self-defense, "will be (criminally) charged, if he hasn't been charged already," a senior law enforcement source familiar with the investigation told CNN Wednesday.
State Attorney Angela Corey, acting as special prosecutor, said she will present new information about the case at 6 p.m. in Jacksonville.
Martin, 17, was killed February 26 as he returned to his father's fiancee's house in Sanford after picking up candy and an iced tea at a nearby convenience store.
The news that Zimmerman -- whose whereabouts were not publicly known Wednesday -- will be charged came shortly after the Rev. Al Sharpton and the Martin family attorney called for the public to remain peaceful, whatever the decision of the special prosecutor turns out to be.
"We do not condone or support in any way acts or language of violence," Sharpton told his National Action Network's 14th annual convention in Washington. "Trayvon Martin's name must not be tarnished by those who are either for or against us with any reckless behavior, even verbally."
He and Martin family attorney Benjamin Crump said Martin's parents, Sybrina Fulton and Tracy Martin, have conducted themselves with dignity and set an example for others.
"Nobody can be hurting more than them," Crump said. "Nobody can be more outraged than them."
Craig Sonner and Hal Uhrig, the two lawyers who had been giving legal advice to Zimmerman, told reporters Tuesday that they had lost contact with their client and no longer represent him.
Phyllis Kotey, a former prosecutor in Florida, told CNN's Brooke Baldwin that Corey may be considering a second-degree murder or manslaughter charge.
"You really just want to weigh the evidence even though you all have all these very public things going on," Kotey said. "It really shouldn't be a political decision."
A second-degree murder charge would look at whether the shooting was done with any kind of provocation and with possible reckless disregard for the safety of another human being.
"When you look at manslaughter ... you are talking about an issue of culpable negligence," Kotey said.
"One of the things you would look at would be the issue of how Zimmerman acted," she said, "whether there was anything unlawful about his actions, in terms of continuing to pursue, continuing to go after an individual in a lawful place... perhaps whether a gun was pulled on an individual in a lawful place."
Brad Conway, a defense attorney in Florida, told CNN that Zimmerman needs to hire a new attorney -- quickly.
"One thing is of key concern to everybody is Mr. Zimmerman's safety," Conway said.
Gov. Rick Scott, in a statement issued late Wednesday afternoon, said, "Most Floridians and local civic leaders are law-abiding, responsible citizens who all want justice to prevail. No matter what State Attorney Corey determines following her investigation of the Trayvon Martin tragedy, I trust in the goodness of all Florida citizens to allow our justice system to reach an appropriate conclusion in this case."
The case has sparked a nationwide debate about race in America and Florida's "stand your ground" law, which allows the use of deadly force by anyone who feels a reasonable threat of death or serious injury. Readings of the law are crucial to a prosecution, Conway said.
Thousands of protesters have descended on Sanford to demand Zimmerman's arrest.
But, Sharpton said Wednesday, "this is not anti-anybody," noting that white people, African-Americans, Latinos and Asian-Americans have joined what Martin supporters have described as a call for justice.
"We're not talking about a conviction," Crump said. "He'll have his day in court. ... All we're asking for is an arrest."
Fulton told the group, "for the last 44 days it has been a nightmare, and this is coming from a mother's perspective. I have been up and down as if I was on a roller coaster, but I know without a shadow of a doubt justice will be served."
Sonner said that he believes Zimmerman's claim of self-defense.
"When the facts come out, it'll show he acted in self-defense, that the police department made the proper decision in not arresting him, as there was not probable cause to make the arrest," he said.
"Something changed around Sunday," Sonner told CNN, "and (Zimmerman) cut off all contact and has started doing things without telling me he's doing them."
Attorney General Eric Holder also spoke Wednesday to the National Action Network, pledging that the Justice Department will "conduct a thorough and independent review of the evidence."
"I know that many of you are greatly -- and rightly -- concerned" about Martin's death, Holder said -- "a young man whose future has been lost to the ages."
The department's investigation, launched three weeks ago, remains open, he said, which "prevents me from talking in detail about this matter." Holder did note, however, that Justice Department officials had traveled to Sanford to meet with Martin's family, community members and local authorities. The FBI is assisting, he said.
Uhrig said Tuesday that Zimmerman had, on his own, called Sean Hannity of Fox News and called Corey's office.
"One of the things every defense attorney tells his client is, don't talk to the prosecutors. Don't talk to the cops. Frankly, don't talk to anybody until we get control of the situation, and do it through counsel," Uhrig said.
He added that he was concerned about his former client's "emotional and physical safety" and said Zimmerman could be suffering from "post-traumatic stress."
Sonner said Wednesday that he believes Zimmerman called Corey because "he wanted to give his side of the story to the prosecutors, and we were going to arrange for that to happen. ... If he would have worked through me, I would have allowed him to make his statement."
Zimmerman would not return phone calls so arrangements could be made for him to meet with the prosecutor, Sonner said.
Asked about potential pressure, Corey told CNN affiliate WJXT on Tuesday: "It's not pressure. I mean, the point is, when you are seeking justice, you've only got one course of action, and that's to do everything you can to find out the full truth." That, she said, involves analyzing physical evidence, talking to witnesses,
Although details of the February 26 shooting remain murky, what is known is that Martin, an African-American, ventured out from his father's fiancee's home in Sanford to get a snack at a nearby convenience store.
As he walked back with a bag of Skittles and an Arizona Iced Tea, he was shot and killed by Zimmerman, who is Hispanic and who had called 911 to complain about a suspicious person in the neighborhood, according to authorities.
Authorities have said Zimmerman was not immediately charged because there were no grounds, at the outset, to disprove his account that he'd acted to protect himself.