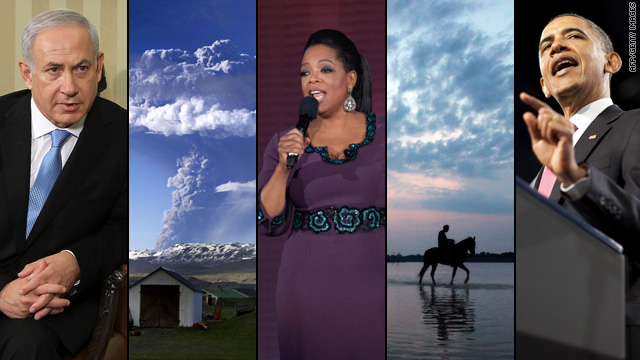 Talk show maven Oprah Winfrey's syndicated show comes to an end this week after 25 years. Here is a look at this and other stories that CNN plans to follow:
Fans, stars turn out for Oprah Winfrey's big goodbye
After a quarter-century that has seen Oprah Winfrey become a pop culture icon, the
Queen of Talk has decided to walk away
on her OWN terms, as in devote herself full-time to her Oprah Winfrey Network.
But first there's a two-day sendoff - taped last week - that will be broadcast Monday and Tuesday and promises a solar system of stars, surprises, and of course, ratings gold. On Wednesday, the final "Oprah Winfrey Show" will air. Winfrey is reportedly producing the show herself and is keeping her plans secret.
Louisiana, Mississippi officials wait on the water
Louisiana officials are expected to reassess the need for a mandatory evacuation Monday for
Butte La Rose
in the face of forecasts that the Atchafalaya River will crest just below flood stage.
Many residents living in a swath of Louisiana's Atchafalaya Basin have left their homes in anticipation of high water after officials opened floodgates to relieve the state's pumps and levee systems.
Malaysians dig out after landslides
At least 16 people were killed and nine others injured in the landslides that were triggered by heavy rains, the nation's official news agency reported Sunday.
Rescue workers scoured the area for up to two dozen children believed buried in and around the orphanage near Hulu Langat, southeast of the capital city of Kuala Lumpur, the Bernama news agency said.
The prime minister, who was attending meetings in the United States, said the government would rebuild the orphanage and provide payments to the victims.
Will the volcanic ash cloud in Iceland grow?
The eruption forced flight cancellations and the closure of airspace over the country's four international airports, Keflavik International Airport spokeswoman Hjordis Gudmunsdottir said.
Officials will reassess the situation at midnight Sunday (8 p.m. EDT), she said.
Weather patterns this weekend have been very different from the northerly winds that swept through the region after last year's eruption of the volcano Eyjafjallajokull, which spewed an ash cloud that disrupted air travel in Europe.
But the movement of an ash cloud is difficult to predict, a spokeswoman for the official United Kingdom weather agency said.
Ash could reach the United Kingdom and northern continental Europe Wednesday, she said.
Netanyahu set to address AIPAC in Washington
Israeli Prime Minister Benjamin Netanyahu is expected Monday to address the main American-Israeli advocacy group, the American Israel Public Affairs Committee (AIPAC) in Washington.
Netanyahu's visit comes after President Barack Obama on Sunday spoke to the U.S. Jewish lobby, softening his remarks after he said last week that Israel-Palestinian negotiations should start from pre-1967 borders.
Originally saying that borders based on Obama's remarks would be "indefensible," Netanyahu struck a conciliatory tone Sunday.
"I am determined to act together with President Obama in order to find ways to resume the negotiations for peace," Netanyahu's statement said. "Peace is a vital need for all of us."
'O'bama' heads to Europe, to the sound of Irish ayes
"It was brought to my attention last year that my great-great-great-grandfather on my mother's side hailed from a small village in County Offaly," he said on the campaign trail in 2008.
To many of the residents in one small village, the presidential visit is a homecoming of sorts, a gesture of solidarity and kinsmanship in troubled times.