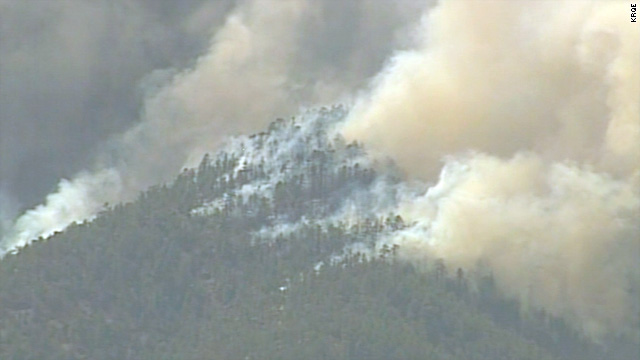 Residents of northern New Mexico got a reprieve Sunday from a wildfire that has burned more than 120,000 acres when authorities announced that evacuees could return home.
Los Alamos County Police Chief Wayne Torpy announced that all but two roadblocks around the county were lifted by 8 a.m. Sunday, allowing roughly 10,000 residents to come back to town. The decision was made after a positive assessment from the federal Incident Management Team that is coordinating the fight against what's being called the Las Conchas fire.
The move came after relatively favorable weather conditions -- including fairly high humidity and weak winds -- in recent days, said Brad Pitassi, an Incident Managent Team spokesman for the Southwest.
"We've been really encouraged the last 48 hours," he said.
But he stressed that the fire remains "very active," noting it was only 11% contained by Sunday afternoon. It just happened that some recent progress has been on the southwest edge of Los Alamos, paving the way for the evacuees' return, he said.
Firefighters view battling this blaze, and many others like it around the region, as "marathons, not sprints," with a major amount of work remaining before the danger is over.
"We are not out of the woods yet," Pitassi said. "This will take a long time to contain."
The Las Conchas fire began on private land on June 26 and expanded into the Santa Fe National Forest and Jemez Ranger District. It spread rapidly, fueled by strong winds, high temperatures and dry conditions that have similarly fueled dozens of other fires around the region.
The fire has since engulfed much of the national forest, the Valles Caldera National Preserve and Bandelier National Park.
It also prompted the closure of Los Alamos National Laboratory. On Saturday the state of emergency for the lab was lifted, but there was no indication as to when it might reopen. At no time were nuclear or hazardous materials on site threatened, the laboratory said in a statement, adding it was moving into an "operational recovery mode."
About 2,000 personnel and 11 aircraft were battling the fire, according to the fire spokesman.
Citing National Weather Service forecasts, Pitassi said temperatures in the fire zone were expected to peak between 80 and 90 degrees Fahrenheit "over the next day or so." Humidity was expected to be between 18 and 26% Sunday before rising slightly over the next 24 hours. Winds will be between 3 to 15 mph, except in deeper canyons where they could blow as fast as 25 mph.
While one of the largest and least contained currently, the Las Conchas fire is just one of dozens still burning in the United States, especially in the southwest. Several of those are also in New Mexico, including the 10,000-acre Pacheco fire about 25 miles west of Los Alamos and Donaldson fire near Hondo that has charred 96,745 acres and is 50% contained.
Pitassi said that a combination of "extremely dry fuels," rugged terrain, strong winds and very warm temperatures has led to a "record-breaking year" for firefighters -- and one that still has no clear end in sight.
"We've had almost a perfect-storm scenario," he said.