New York Agreeing with prosecutors' assertions that he is a flight risk, a judge Monday denied bail to International Monetary Fund head Dominique Strauss-Kahn, who police say chased a hotel employee down the hall of his New York suite and sexually assaulted her.
"The fact that he was about to board a flight, that raises some concerns," said Criminal Court Judge Melissa Jackson.
Strauss-Kahn will be held on Rikers Island, New York's primary prison complex on the East River, said a New York Department of Corrections spokesman, who declined to be named. The IMF head is next set to appear in court Friday.
He'll be at Rikers Island along with thousands of men and women who are being held or have been convicted for a host of violent and other crimes committed in the city. The spokesman said Strauss-Kahn will be in protective custody, staying in a cell by himself and having no contact with other inmates -- steps taken because he's considered a high-profile detainee.
Prosecutors argued against bail for Strauss-Kahn on Monday, saying they believe Strauss-Kahn has engaged in "similar acts" at least once and there is little to prevent him from returning to France and living "open and notoriously."
Defense attorneys noted Strauss-Kahn's lack of a criminal record and said he would be prepared to stay with his daughter in New York if released on bail. They suggested bail of $1 million.
But Jackson told Strauss-Kahn defense attorney Benjamin Brafman, "The same rules apply to your defendant as all defendants, and I am a fair judge."
After the arraignment, Brafman told reporters, "This battle has just begun. ... We think this case is very defensible."
Prosecutors during Monday's hearing detailed a list of charges against Strauss-Kahn, including two counts of first-degree criminal sexual act, one count of first-degree attempted rape, one count of first-degree sexual abuse, one count of second-degree unlawful imprisonment, one count of forcible touching, and one count of third-degree sexual abuse.
"The top charge, criminal sexual act in the first degree, is a class B violent felony, carrying with it a maximum sentence of 25 years in prison," the New York district attorney's office said.
Police allege Strauss-Kahn sexually assaulted the 32-year-old woman Saturday afternoon at the Sofitel hotel in Manhattan, hours before two plainclothes Port Authority police officers took him into custody without incident as he sat in a Paris-bound Air France plane's first-class cabin at New York's John F. Kennedy Airport, said a law enforcement source who was briefed on the case.
Strauss-Kahn's accuser picked the IMF chief out of a lineup Sunday at a New York police station, saying he was the man who had sexually assaulted her, according to a law enforcement source with direct knowledge of the investigation.
The arrest of the 62-year-old, widely considered a leading potential candidate for the French presidency, triggered intense political chatter across the Atlantic. In France, it delivered what the Paris newspaper Le Figaro called a "thunderclap" to the presidential race. And some at the headquarters of Strauss-Kahn's Socialist party were in tears Monday after the news.
The incident has also disrupted the rhythm of the IMF, which assists countries suffering economic difficulties by providing loans. Founded after World War II, the IMF is composed of 187 countries.
Mr. Strauss-Kahn has retained legal counsel, and the IMF has no comment on the case
--Caroline Atkinson, IMF's director of external relations
The organization's executive board met "in an informal session to receive a verbal report from senior fund officials," IMF spokeswoman Caroline Atkinson said in a press release. Having been briefed on developments regarding Strauss-Kahn, she added, "The IMF and its executive board will continue to monitor developments."
About 1 p.m. Saturday, Strauss-Kahn was in his luxury $3,000-a-night hotel suite when the housekeeping employee came in to clean it, said New York Police Deputy Commissioner Paul Browne. He shut the door, preventing the woman from leaving, according to a criminal complaint released by prosecutors.
Strauss-Kahn emerged from a room naked, according to Browne, and ran after her down the hallway of the suite, which has its own foyer, hallway, living room, bathroom, conference room and bedroom.
"He grabbed the victim's chest without consent, attempted to remove her pantyhose" and forcibly grabbed her between her legs, the complaint said. He also forced her to perform oral sex on him, Assistant District Attorney John McConnell said at the arraignment.
The woman said Strauss-Kahn pulled her into a bedroom and started attacking her, police said. She fought him off, she told investigators, but he then dragged her into the bathroom and forced himself on her.
Afterward, the employee ran to the front desk, Browne said. Hotel staff alerted New York police.
By the time officers arrived, Strauss-Kahn had left, leaving his cell phone behind at the hotel, according to Browne.
He left in a hotel limo, according to the law enforcement source. He called the hotel to say he had left his phone behind and asked if it could be brought to him. That call came in about the same time police arrived to investigate the alleged sexual assault, the source said. Investigators told the hotel staff to advise him the phone would be taken to him and went to the airport. Two plainclothes Port Authority police detectives led him off the plane, the source said.
Defense attorneys on Monday disputed authorities' allegations that Strauss-Kahn left quickly after the alleged attack, saying he had a lunch appointment and that his flight to Paris had been booked far in advance.
"It is simply inaccurate, and again it comes from inaccuracies because their rush to do the investigation," said Brafman.
Strauss-Kahn's lawyers have declined to identify or characterize the relationshp of the person they say was having lunch with their client at the time of the alleged sexual assault. This person, the attorneys say, is willing to testify.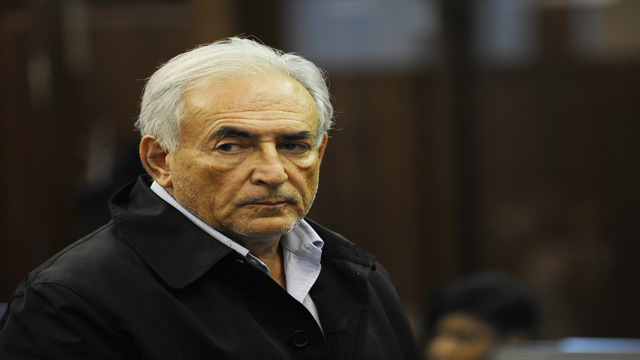 A law enforcement source with direct knowledge of the investigation said Strauss-Kahn was examined for scratches and DNA samples were taken. Strauss-Kahn consented to the testing -- the reason his arraignment was pushed to Monday, said another of his lawyers, William Taylor -- after investigators were prepared to execute a search warrant, the source said.
Strauss-Kahn's wife, French journalist Anne Sinclair, defended him in a statement Sunday sent to Agence France-Presse. The couple live in Washington, where the IMF is based.
"I do not believe for one second the accusations brought against my husband," Sinclair said. "I have no doubt his innocence will be established." Sinclair called for "decency and restraint," AFP said.
A former French finance minister, national legislator and economics professor in Paris, Strauss-Kahn became the IMF's 10th managing director in November 2007. He is also chairman of the IMF executive board.
"Mr. Strauss-Kahn has retained legal counsel, and the IMF has no comment on the case; all inquiries will be referred to his personal lawyer and to the local authorities," said Atkinson, IMF's director of external relations. "The IMF remains fully functioning and operational."
Deputy head John Lipsky serves as acting managing director while Strauss-Kahn is not in Washington, the IMF said, making him the agency's de facto leader at least as long as Strauss-Kahn is detained in New York.
Still, the question of immunity -- and whether it applies to Strauss-Kahn or to documents and items that he had when he was taken into custody or left behind at the hotel. IMF bylaws say its officials are "immune from (the) legal process" for anything to do their day-to-day jobs, immigration matters, taxation or other such issues.
The IMF said Monday that Strauss-Kahn was traveling on private business while in New York, having paid out for his Sofitel room out of his own pocket.
Browne said Strauss-Kahn does not have diplomatic immunity in this case nor, to the commissioner's knowledge, has he claimed it. CNN senior legal analyst Jeffrey Toobin said immunity is unlikely to apply to Strauss-Kahn regardless, because violent crimes like the one alleged here aren't covered.
IMF spokesman William Murray said the world body is working with Manhattan District Attorney Cyrus Vance's office to get IMF documents Strauss-Kahn had with him or left behind at the hotel. A spokesman with Vance's office declined comment on whether any such discussions are taking place, saying the matter is part of its investigation.
The IMF spokesman says any such documents are "fully protected" by the the group's immunities. Its bylaws state that "the fund, its property and its assets, wherever located and by whomsoever held, shall enjoy immunity from every form of judicial process except to the extent that it expressly waives its immunity."
Police have seized Strauss-Kahn's cell phone, which he left behind in the hotel suite. A source with direct knowledge of the issue, who requested anonymity, said that any IMF-issued electronic devices, including official phones, are also covered by immunity. It is not clear whether the phone seized by police in Strauss-Kahn's hotel suite was issued by the IMF.
Strauss-Kahn was scheduled to be the keynote speaker at the Brussels Economic Forum in Belgium on Wednesday. Organizers said Sunday his appearance had not been canceled officially, but they were no longer expecting him to attend.
His arrest is already having an impact in France.
While Strauss-Kahn hadn't officially entered the French presidential race, recent polls showed him leading prospective Socialist Party presidential candidates. Surveys also suggested Strauss-Kahn posed a large challenge to Sarkozy in the 2012 election.
"If the accusations are true, Strauss-Kahn will not be able to run for president," said Jacques Attali, a former top aide to Socialist President Francois Mitterrand. Attali now serves as a political analyst.
Strauss-Kahn became embroiled in controversy soon after joining the IMF, amid reports -- which he later acknowledged -- that he'd had an improper relationship with a female employee. The physical relationship was consensual, an independent inquiry found.
The world body's executive board concluded in October 2008 that "there was no harassment, favoritism or any other abuse of authority by the managing director."
"Nevertheless, the executive board noted that the incident was regrettable and reflected a serious error of judgment on the part of the managing director, as he has acknowledged and for which he has apologized," the IMF said .
Strauss-Kahn also issued a statement after the investigation, noting that he had "apologized for it to the (board of directors), to the staff of the IMF and to my family," as well as "the staff member."