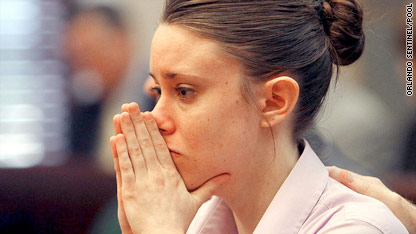 Over the objection of their daughter, the parents of Casey Anthony will be allowed in the courtroom when she goes on trial for the murder of her toddler daughter, a Florida judge ruled Friday.
Jury selection will begin Monday morning in an undisclosed location. Because of the media hype over the case, this site -- and, concurrently, the locale from which the jurors will come from -- has been kept secret from all but a few people on the defense and prosecution teams.
Casey's 2-year-old daughter, Caylee, was reported missing in July 2008, about one month after she was last seen. Five months later, investigators found her remains.
The girl's mother was later charged in her death. Prosecutors contend that Casey Anthony, now 25, used "a substance" to kill her daughter, Caylee.
Once her trial begins in earnest, which is expected to happen May 17, George and Cindy Anthony can be in the courtroom, Orange County Superior Court Chief Judge Belvin Perry Jr. ruled Friday.
Both of Casey Anthony's parents, as well as her brother, have testified in pretrial hearings. Her mother made frantic 911 calls on July 15, 2008, when she apparently learned that the 2-year-old had been missing for a month, and confronted her daughter about it, according to court documents.
The defense motion contended that while the parents might argue they have a right to attend the proceedings, "this right must yield to the defendant's right to a fair trial." In its motion, the defense asked the judge to consider if the Anthonys should be sequestered "throughout the relevant portions" of the trial.
Courts typically prefer that witnesses not be allowed to attend out of fear that other testimony could affect theirs. But there also are precedents for exempting a victim's next of kin. George and Cindy Anthony were grandparents to young Caylee.
Perry heard arguments from defense attorney Cheney Mason, who said that Casey Anthony's parents could be called to the stand "on more than one occasion." Jeff Ashton, the assistant state attorney for Orange and Osceola counties, said prosecutors did not object to the parents' presence, so long as jurors weren't distracted.
The Anthonys' attorney, Mark Lippman, noted that this marked a reversal, as the prosecution initially didn't want his clients in the courtroom but now that's the defense's stance. He said his clients did not know if Casey Anthony, specifically, did not want her parents in the courtroom, speculating it might have been part of her lawyers' defense strategy.
Ultimately, the judge decided that the Anthonys can sit in the gallery -- an area in the back of a courtroom, where members of the media and public sit.
"The defense has not met their burden (of proof) to show ... what prejudice they would suffer if the Anthonys were (allowed in) the room," Perry said. "They will not be excluded from appearing in the gallery during the trial."
The judge stressed that the parents could be thrown out if -- like any other person who might be in court -- they make facial expressions and otherwise show "approval or disapproval" during the trial. He did not specify where exactly they would sit, or if they would have to wait vie with other citizens for one of the few available seats.
Afterward, the parents' attorney, Mark Lippman, said he had expected Cindy Anthony would be allowed in, adding that he was pleasantly surprised that her husband would also be let in the court for the trial.
"I'm happy the judge went the way he did, as my clients argued," Lippman said. "Their presence in the courtroom should not detract from the defense."
Adding to the family drama, Cindy Anthony has asked to visit her daughter in prison Saturday. Her lawyer, Lippman, said it is unknown whether Casey Anthony will accede to that request, as she's repeatedly refused to talk to her parents since going to jail.
It also hasn't been revealed where the jury that decides Casey Anthony's fate will come from and gather next week.
Judge Perry said Friday only that he would see attorneys from both sides starting at 8:30 a.m. Monday. He didn't say where. Once the jurors are selected, they'll be brought to Orange County, where the trial will take place.
Later Friday afternoon, Perry issued an order in response to a request from several media organizations for the judge to void the "confidentiality agreement," which allowed certain media that signed it to learn where jury selection would be so long as they didn't disclose that information publicly. This media group wanted to know the jury selection site immediately.
Citing "the exceptional media coverage and public interest" in the trial, Perry said in his order, "we find no legal authority to require the trial court to immediately publish that information."
The judge also concluded that no confidentiality agreement can be used, since it wouldn't allow all media equal access to the jury selection information. That means that no media organization -- not even those willing to keep secret the location until the process begins -- will be told where the jury will be picked until sometime Monday morning.
"The trial court cannot selectively disclose a court order or decision to some members of the media while withholding it from others," Perry wrote in his order.