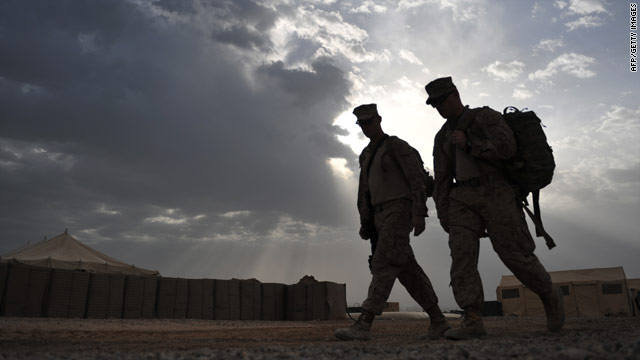 If the impetus for the U.S. war in Afghanistan was the Sept. 11, 2001 attacks by al Qaeda and pursuit of its leader Osama bin Laden, then what does his death means for our war in Afghanistan and against global terrorism? That's the question being raised by politicians, world leaders and security experts.
WHAT HAPPENS NEXT?
After news of bin Laden's death, Sen. Dick Lugar questioned whether we need to change course in Afghanistan, saying the country doesn't pose as big of a threat anymore given the reason we were there in the first place was to hunt down bin Laden.
And with the big man at the top out of the picture,
TIME's Mark Thompson writes,
"pressure will increase to speed up the withdrawal of some of the 100,000 U.S. troops now in Afghanistan."
Lisa Curtis, former CIA analyst and former state department adviser, told CNN she believes "now is not the time" to announce large-scale changes for the U.S. timeline in Afghanistan.
"If [the U.S.] were to hasten the plans for withdrawal just because we captured bin Laden, it would send the wrong signal," she said.
The decision is also a matter of message, versus money and strategy.
"Even those who recently supported the war may now believe that the war's main goals have been achieved and it is time for U.S. forces to come home," Bensahel wrote. "Obama will face an uphill battle convincing Americans – and some members of Congress – that U.S. strategic interests still require spending billions of dollars a month on military operations in Afghanistan."
WHAT IMPACT DOES DEATH ACTUALLY HAVE?
It's part of the long-standing, grand ambition of our foreign policy - to delink the "good" Taliban from the "bad" Taliban and al Qaeda as a way to bring peace to Afghanistan.
"Administration officials think it could now be easier for the reclusive leader of the largest Taliban faction, Mohammad Omar, to break his group's alliance with al Qaeda, a key U.S. requirement for any peace deal," the Washington Post writes. "They also think that bin Laden's death could make peace talks a more palatable outcome for Americans and insulate President Obama from criticism that his administration would be negotiating with terrorists."
DIVIDED VIEWS
What should happen next, of course, depends on your vantage point.
"Notwithstanding the unparalleled performance of U.S. troops in Afghanistan, the demands of a global war on terror cannot be met by concentrating resources in this one region indefinitely. The president has yet to articulate a definition of success in Afghanistan. Our forces on the ground remain the best in the world, having decimated al Qaeda and diminished its influence even before the death of bin Laden," he wrote.
However, he felt the U.S. should focus on the broader war on terrorism.
"While we expend massive resources shoring up a questionable government [in Afghanistan,] the real war on terror continues to be a global problem that extends beyond the borders of Afghanistan," he wrote.
It's a feeling other members of Congress are beginning to express louder as well.
But for those still on the front lines - there are many questions.
While they are thrilled with the news, military families worry about their loves ones and fear retaliation. They know their family and friends in combat will be called on as threat concerns rise, but they continue to hope the death could mean more calls for them to finally come home from Afghanistan - once and for all.
IF NOT AFGHANISTAN, THEN WHERE?
With the death of bin Laden, many questions about the strength of terrorist groups, specifically al Qaeda, come back into the forefront of our minds.
Looking into the future will be key to what role the U.S. plays in Afghanistan and where we focus our efforts in the war on terror.
Analysis of many profiles of Guantanamo
detainees suggests that becoming a member of al Qaeda in Yemen in the late 1990s was relatively easy, which may explain why Yemenis comprised the third largest group (after Afghans and Saudis) held there. A major concern is where the new hotbed of terrorist activities will center, and Yemen, Somalia and Pakistan are of great concern.
And with bin Laden becoming the latest high-ranking terrorist to be caught in Pakistan, questions are swirling about our relationship with the splintered country - and its role in our war on terrorism.
For now, that's still up for debate. And with politics, emotions, money and lives on the line it's bound to be a heated one.