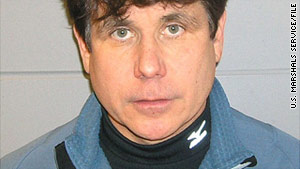 Chicago -- The jury considering corruption charges against former Illinois Gov. Rod Blagojevich has reached verdicts in 18 of the 20 counts against him, a court clerk said Monday.
The jury is expected to return its verdicts Monday afternoon.
Charges against Blagojevich include trying to peddle the U.S. Senate seat held by Barack Obama before he resigned to become president. Blagojevich has denied any intention of bribery.
Last August, after a two-month trial and 14 days of deliberation, jurors deadlocked on 23 of the 24 charges Blagojevich had faced. They found him guilty on one count of lying to FBI investigators, a conviction that could carry a prison sentence of five years.
The accusation that Blagojevich tried to profit as he considered whom to appoint to succeed Obama, among other allegations, prompted his impeachment by Illinois' House of Representatives and his removal from office by the state Senate in 2009.
Ten of the counts against him in the current trial are wire fraud. The other 10 involve extortion and bribery. Most of the counts have a maximum penalty of 20 years in prison.
Blagojevich, 54, was taken into federal custody in December 2008, less than two years into his second term as governor. A federal grand jury indicted in him April 2009.
At the time of his arrest, prosecutors said court-authorized wiretaps caught Blagojevich offering Obama's Senate seat in exchange for personal gain, including a job with a non-profit or union organization, corporate board posts for his wife, campaign contributions or a post in Obama's administration.
He expressed frustration, according to prosecutors, that Obama transition officials were "not willing to give me anything except appreciation."
"I've got this thing and it's [expletive] golden, and, uh, uh, I'm just not giving it up for [expletive] nothing. I'm not gonna do it," prosecutors quoted Blagojevich as saying.
Blagojevich also considered appointing himself to the post, mulling whether he might be better off being indicted as a senator rather than governor, and saying contacts he would make in the federal job would benefit him later, according to prosecutors.
Aside from the charges of trying to sell the Senate seat, prosecutors also accused Blagojevich of using his position to obtain financial benefits for himself, his family and his campaign in exchange for jobs, contracts and appointments to state boards to supporters.
They accused Blagojevich of acelerating the scheme in 2008 to accumulate funds before a new state ethics law would have limited his ability to raise money from people and companies that were doing business with the state.
Along with Blagojevich, prosecutors charged his brother, Robert Blagojevich, with one count of wire fraud, one count of extortion conspiracy, one count of attempted extortion and one count of bribery conspiracy in connection with his brother's alleged Senate-seat-selling plan.
But a week after jurors came back deadlocked on most of the counts against Rod Blagojevich and all of the charges against his brother, prosecutors dropped charges against Robert Blagojevich but said they would retry the former governor.
Blagojevich's defense argued that he just liked to talk and that he ended up with nothing. Attorney Aaron Goldstein said the "law is about intent," CNN affiliate WLS has reported. Goldstein said the prosecution hadn't met its burden of proof.
The former Cook County assistant prosecutor, state representative and Golden Gloves boxer has remained in the public eye since his removal from office, appearing in a Chicago comedy show, releasing an autobiography, and competing on the TV show "Celebrity Apprentice."