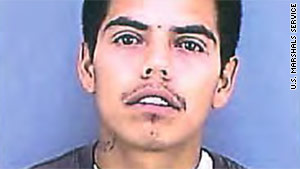 A man suspected of killing a 1-year-old child in Texas last year is among the U.S. Marshals' most wanted fugitives, the service announced Friday.
The federal agency added Simon Lopez, 26, to its "15 Most Wanted" list and cautioned the public that he is "considered armed and extremely violent."
Authorities allege that Lopez strangled and beat his girlfriend's son, Jeremy Silva, while babysitting her two children in November.
Lopez contacted Jeremy's aunt on November 23, claiming that the boy wasn't breathing, and dropped him off at her house, according to a statement released by the U.S. Marshals Service. Jeremy was rushed to the hospital, where he was pronounced dead because of blunt-force trauma to his chest. His ribs were broken, and he had severe bruising on his body, the statement said.
"No criminal act is more disturbing than committing violence against a child, especially when the injuries inflicted are fatal," said Geoffrey Shank, an acting assistant director of the U.S. Marshals Service.
"(Lopez's) addition to the 15 Most Wanted program will enact all available resources to bring this violent fugitive to justice."
Lopez evaded police when they tried to catch him in a Dallas hotel in December, the U.S. Marshals said.
Lopez has previous arrests for aggravated assault with a deadly weapon, theft, assault causing bodily injury and possession of marijuana, they said.
The U.S. Marshals Service is offering a $25,000 reward for any information that leads directly to Lopez's arrest.