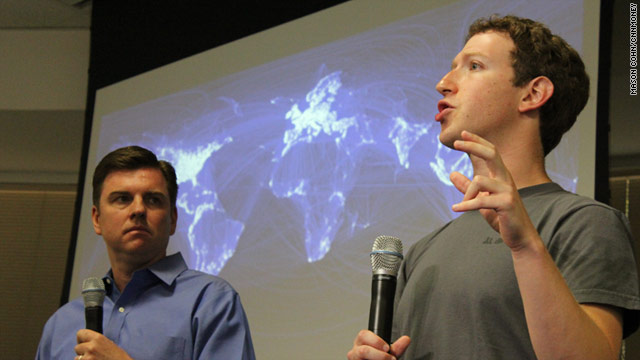 Comment of the day:
"Great, so now everyone on my friends' list will know how I really look and my Photoshop secret will be out." -
Freedom444
Friends coming to you live
Facebook on Wednesday announced a video-calling feature for its 750 million users that will be provided by Skype, the well-known Internet video
chat
program. The move comes shortly after Google launched a competing social network that also features a video chatting program.
The news had many CNN.com readers wondering if the new feature will affect how people portray themselves — and interact — on Facebook.
Davethecanuk said, "For all those women who try to take a picture of themselves from above, in weak light, with their head tilted, hiding that double chin just got a little tougher. Thanks, Zuck!"
Thoughtbox said, "Does that mean I have to wear clothes when surfing Facebook now?"
TGD783 said, "Facebook users don't want Skype. Ninety percent of people's friends on Facebook are fake friends, and a face-to-face interaction is the last thing Facebook users want. People will stick to making narcissistic status updates, wanting you to comment on them without actually having to talk to you."
Guest responded, "That may be your experience on Facebook, but it's far from being everyone's. There are plenty of people that are excited about the feature and have been asking for it."
th3cheat added, "Yeah, I have both Skype/Facebook and an active social life. Get off your anti-fad horse."
Ahead of their announcement Wednesday, Facebook alerted the media that they were launching something "awesome," but many CNN.com readers missed the wow factor.
james1095 said, "Video chat? *yawn* Party like it's 1999; it was quite a novelty back when webcams first got cheap, but I haven't seen anyone doing that in years."
barrychapman said, "AND................... (DRUMRULL) - IT'S SKYPE CHAT!"
Jodey said, "Video chat is the 'awesome' new Facebook thing? How 1998! Lame."
alison112 responded, "Next 'awesome' announcement will be the ability to fax friends via wall posts."
LameParade
said, "Wow! Now I can REALLY stay in touch with people whom I haven't seen in 20 years/don't care if I ever see again. Thanks FB!" But
clstevens
responded, "And I can keep in touch with my family in the U.S. while I'm deployed overseas without going broke on
phone
charges. Thanks FB!"
cbg865 said, "OK ... that was awesome. Other social sites have [video chat] already, but Facebook has over 750 million users ... so that's important.
But NebraskaCub said, "Why not just hang out with your friends in person?"
youpraygame responded, "I would love to hang out with my friends in person, but they live at least two hours away. So should I just not talk to them at all? I think I'll take Facebook over nothing." themarsist said, "Well I live in Canada, I have good friends in Mississippi, Texas and California. ... I do prefer their immediate and live company but that is very much an impossibility."
JohnnyOh2323 said, "Ha, ha. We're coming full circle back to actual friendship that involves genuine communication."
The Obama administration announced Wednesday that it will begin sending condolence letters to the next-of-kin of service members who commit suicide, said a White House statement. With a steady rise in Army and Marine suicide rates in 2004-2009, senators and family members of service members who committed suicide hope the decision will help end "stigma" of a war's mental health toll.
CNN.com readers welcomed the news.
Dare2Know said, "While this is a long-overdue correction of a policy that should never have been place to begin with, it is the preventative measures that should be the focus." mclark256 said, "Agreed. Condolences are cold comfort. We should be focusing on prevention."
DollyD said, "My belated condolences to any family that was effected by this heartless policy. Loss of a loved one to suicide is probably even more devastating. I would like to know if survivor death benefits and burial benefits are different when a death is by suicide."
AaronT3 said, "As a veteran, I think once again President Obama has shown true compassionate leadership with this action. Knowing a loved one's loss is great no matter how it occurs. CNN, you guys should have named the "group of senators", I'd love to send them a thank you letter personally."
alwaysrite9 said, "I like your idea. Here's a list of the senators: Barbara Boxer, California, co-chair of the Senate Military Family Caucus; Richard Blumenthal, Connecticut; Richard Burr, North Carolina; Ben Cardin, Maryland; Richard Durbin, Illinois; Patrick Leahy, Vermont; Mark Pryor, Arkansas; Jay Rockefeller, West Virginia; Jon Tester, Montanta; Mark Udall, Colorado; Ron Wyden, Oregon.
Guest said, "Wow... I didn't know there was such a ban! So we used to put our young men in unbelievably horrific combat circumstances, subject them to severe brain injury and loss of limb(s) and then our government would not recognize that in many instances it was their decision to serve that directly led to their suicide? Incredibly cruel, especially to the families. Thank you President Obama for reversing this abomination."
KC3482 said, "No one makes the decision to commit suicide except the person who kills him or herself. War, PTSD, none of that 'makes' someone do it."ChaiTai said, "Suicide is caused by pain and anguish and a feeling of no way out. Try being in Iraq for a while. You'll know what I mean. I feel for them."
Drakecageful said, "War is both a physical and emotional activity for the soldiers we send to battle. The death of one soldier by an enemy bullet is no more noteworthy than one who dies as a result of the traumatic effects of war."
Prometheus said, "This was a heartless policy, and I want to extend my condolences as a former veteran to any who have had a loved one so affected that they would take their own life. We are beside you. We will not desert you. We will not leave you behind. We will listen to you. You are important to us, your Brothers and Sisters. For those who have passed we miss you. For those who are in pain, we want you to stay with us. We will not allow you to carry your load alone. We are a family. 'Unitas Per Fidem' You are NOT alone."
Charee Godwin-Smith and her husband, Kerry Smith, recently adopted a 20-something Marine aviation operations specialist who says that, when they asked him for his permission, "For maybe the first time in my whole life, I felt truly loved."
CNN.com readers were touched by the story.
thatguy181 said, "Need a NSFW label. Would have been highly unsafe for a grown man to be seen programming away on his computer and suddenly start crying. Very good story. The kind of news you actually want to hear about."
kath148 said, "I think this one is actually very touching. Imagine someone doing something just for the joy and kindness of it!" Brenttt said, "This is a great story. God bless this family."
Commandrea said, "What's nice is that he will have a family to bring a wife and children home to for the holidays and a support system that will allow him to continue a new branch of the family tree."
Readers also seemed eager for a change of pace.
NYreader1 said, "Finally a story that is positive. I am tired of reading sad/depressing news all the time. Thank you for sharing this wonderful story. Amen to that family and the love they could share with someone who didn't experience much of it growing up. That family is aces to me."
JasonKS said, "If this isn't a definition of love, I don't know what is. I heartily agree with others: This is a great story to see. So much 'bad' stuff lately that reading this really reminds you of what's important."
Justme1983 said, "If you haven't lost a parent at a critical age like him (I was 12), you may not relate to this. To have a family want to take you in as their own is a true blessing no matter what age. I hope they all have a wonderful life together."
demiricous said, "There should be more stories like this and less miserable ones." stevef222 said, "This story is definitely a breath of fresh air after watching the Anthony family on TV."
iBod said, "The best news story I've seen all day. ... Can we please talk about this all day tomorrow instead of that other overly annoying story that has been nonstop for the past month?" Davidg55 said, "Shh. Don't mention it. It will hear you."
Do you feel your views align with these commenters' thoughts? Post a comment below or
sound off on video
Compiled by the CNN.com moderation staff. Some comments edited for length or clarity.