Tripoli, Libya (CNN) -- Gunfire was directed into Moammar Gadhafi's compound Tuesday evening, hours after rebels seized control of it and held jubilant celebrations.
Rebels said Gadhafi's forces were firing into the compound. There was no way to confirm who was doing the shooting.
A CNN team evacuated the compound because of the incoming fire. "There was tracer fire and we could hear bullets coming past us," CNN's Sara Sidner said.
"Everybody was running," she said.
Earlier, rebels said they had disarmed and captured some of Gadhafi's forces inside the Bab al-Aziziya compound following an extensive, hours-long military siege.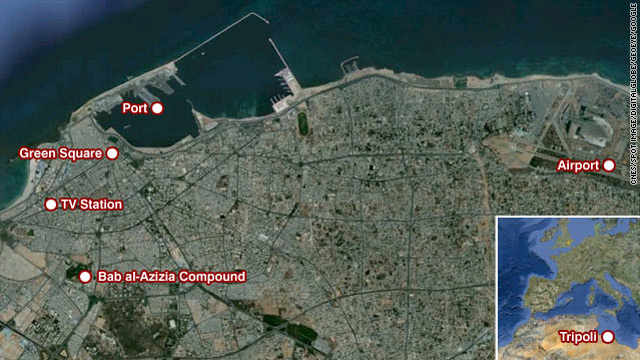 No members of the Gadhafi family were found.
"God is great!" rebels and their supporters cheered amid the seemingly endless sounds of celebratory gunfire. "Victory is here!"
The celebratory gunfire itself created serious dangers for all in the area.
The CNN team that was inside the compound said the fighting had ended there. Some buildings were knocked down and some were on fire. Rebels seized weapons and munitions.
Residents of Tripoli went into the compound and began taking items.
Some people were injured in the compound. The news network Al Jazeera said one of its journalists was wounded there.
Aref Ali Nayed, Libya's ambassador to the United Arab Emirates, said the rebel entry into Bab al-Aziziya represented "a complete victory and we thank God for that."
"I'm free. I can get back to my normal life," said one jubilant young man named Ahmed, who had been inside the compound, in an interview with CNN.
A senior NATO official said the war was "not over yet, although it's close. We continue to watch for flare-ups from around the country, where there are still going to be pockets of resistance. We are also watching the chemical weapons and Scud missiles to make sure they are not used in the endgame."
U.S. State Department spokeswoman Victoria Nuland said a "reliable, affirmative" statement from Gadhafi himself is needed to underscore that "the days of his leadership are over."
It was unknown where Gadhafi and his family were.
Some rebels took medical files of some members of the Gadhafi family out of Bab al-Aziziya.
The compound was damaged by repeated NATO airstrikes in past weeks. Mahmoud Shammam, minister of information for the rebels' National Transitional Council, said NATO hit some targets Tuesday inside the compound. NATO would not comment on specific actions it was taking.
Minutes before the celebrations began, streets near Bab al-Aziziya were filled with urban warfare. A CNN crew near the compound could see the fighting, with bullets flying and snipers on buildings..
A 7-year-old boy standing outside his home, armed with a weapon larger than himself, told CNN he was in charge of protecting his home because his father had gone out to fight.
CNN also saw people being treated for shrapnel wounds. They had weapons propped up along the wall. It was unclear what role they may have played in the fighting.
A nurse at a clinic said a woman, a civilian, was killed when she stepped outside her home and was hit by gunfire.
Some Gadhafi forces dressed like rebels and worked to infiltrate rebel forces. In the midst of the urban warfare, loyalties were not always clear.
A CNN crew at the nearby Rixos hotel heard loud explosions coming from the compound throughout the day, likely the sound of artillery shells being exchanged.
Bullets were fired into the windows of the hotel, and the crew holed inside along with a few dozen other international journalists, unable to leave and running out of supplies.
"We're upstairs. It's very hot in the hotel. We've all got body armor on. We don't know what to expect," Chance said.
"We want to get out of here. But we are unable to do that. It's almost like a situation where we feel we are being kept against our will."
Despite cheers of "victory" in the streets, some rebel officials have said the key to victory will be the capture of Gadhafi himself.
Col. Roland Lavoie, a NATO spokesman, said Tuesday he doesn't have a clue" where Gadhafi is. But he added that the regime is coming to an end, and that Gadhafi is "not a key player anymore."
Shammam said there were some reports that Gadhafi might be near the Algerian border, "but I'm not ruling out anything."
Russia's Interfax news agency, meanwhile, quoted the head of the World Chess Federation as saying he spoke with Gadhafi and his son Mohammed by phone, and that Gadhafi said he is "alive and well in Tripoli and not going to leave Libya."
The information could not be independently confirmed.
NATO said Tripoli was no longer "under Gadhafi control," and Shammam said earlier in the day that his conservative estimate was that rebels controlled 85% of the capital.
The National Transitional Council established a small office on the outskirts of Tripoli, according to rebel sources. They are in hiding but in place to facilitate a transition once Gadhafi is ousted.
Before the Gadhafi compound was captured, a CNN team at Tripoli International Airport, which was taken over by rebels Monday, reported hearing very heavy fighting coming from the main road into the city, north of the airport. Heavy shelling could be heard and there was black smoke in the area.
Two military installations lie along the road.
Rebel officials told CNN that Gadhafi forces launched an effort to retake the airport, attacking from the south and the east. Rebels fired in return, launching missiles in the direction of the Gadhafi forces that were trying to advance.
The CNN crew also saw what appeared to be a mass exodus of residents from the capital.
And the fighting was not confined to Tripoli. Shammam said battles raged in several cities across the country. "We're fighting in three or four fronts right now," he said, adding, "our troops are limited."
The latest battles come a day after a central claim from the rebels -- that Gadhafi's son Saif al-Islam was in their custody -- turned out not to be true. Saif al-Islam Gadhafi showed up at a hotel where international journalists are staying Monday night.
"The whole situation was confusing," Shammam said. "We admit that our communications were not clear."
He indicated that there may have been miscommunication among different groups of rebels. "We don't know if he was arrested and then escaped," Shammam said. "We have to clarify."
In a brief interview with CNN Monday night, Saif al-Islam Gadhafi said his father and several of his sisters were safe in Tripoli, and that loyal troops had "broken the back" of the rebels who moved into the capital over the weekend.
Another Gadhafi son, Mohammed Gadhafi, reportedly escaped from rebel custody, the Libyan ambassador to the United States said. It was unclear Tuesday whether Saadi Gadhafi -- the third son the rebels claimed to have captured -- was in their custody.
As the fighting raged Tuesday, those wounded faced a shortage of doctors, facilities and medical supplies.
One clinic "has 40 beds, and all of the beds are taken," said Robin Waudo of the International Committee of the Red Cross in Tripoli. "Some of the people have been treated or discharged and taken to other houses nearby in order to be treated."
The ICRC has been bringing supplies to the capital for months, Waudo said, because the organization knew "the fighting would come to Tripoli."
With rebels controlling much of the city, it was unclear what would be done to establish order. Shammam said rebels found a quick victory in taking over much of Tripoli and "were not fully prepared for taking the political situation under control... so give us a few days so we can organize ourselves."
About 30 miles west of Tripoli, tracer fire, anti-aircraft guns and artillery were seen and heard around Zawiya, a key city during the rebels' advance into the capital.
NATO confirmed Tuesday that it has been dropping leaflets in the Zawiya area. One set of leaflets warns residents to stay away from military activities, NATO said in a statement to CNN.
"The other leaflets were aimed at mercenaries fighting for Gadhafi, encouraging them to give up the fight and to leave Libya," NATO said. The leaflets are in Arabic and French.
A missile was fired from Gadhafi's hometown of Sirte and landed in the sea near the rebel-held city of Misrata Monday evening, NATO said Tuesday. The alliance said it had no reports of damage or injuries, but called the attack a "direct threat to innocent people."
"Although the surface-to-surface missiles in Gadhafi's arsenal are highly inaccurate, and are not designed to hit a specific target, they are a weapon of terror," NATO said in a statement. "Their use against an urban or industrial area is utterly irresponsible."
Gadhafi has had a firm grip on Libya since a September 1969 coup. The rebellion against him began in February and has been aided by NATO airstrikes that began in March, under a U.N. mandate to protect civilians.
If the Gadhafi regime falls, it would follow revolutions in Tunisia and Egypt this year in what is known as the Arab Spring. A spate of other countries in the region -- including Bahrain, Yemen and Syria -- have also seen protests by citizens demanding more freedom and a change in regime. In many cases, these demonstrations have been met with brute force.
The Libyan revolt gained momentum rapidly in the past two weeks, with rebel forces launching their push on Tripoli over the weekend.
Gadhafi took to the airwaves several times Sunday urging citizens, including women, to fight the rebels -- whom he called "very small groups of people who are collaborators with the imperialists."
But British Deputy Prime Minister Nick Clegg said Tuesday that Gadhafi's downfall is imminent. "It is only a matter of time before they are finally defeated," he said.