1. Rockwall County, TX
Rockwall County is rockin' and rollin' at the top of our list for job creation. It may be the Lone Star State's smallest county, but it's one of Texas's fastest growing, with a population that's almost doubled in the last decade.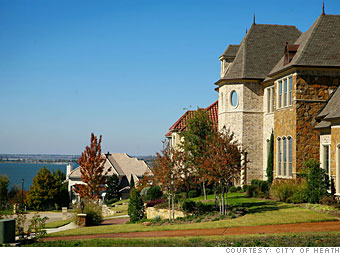 The county borders Lake Ray Hubbard in the northeast corner of the Dallas-Fort Worth Metroplex. Development there once centered on homes and recreation, but now Rockwall wants to be a place where its wealthy residents live, play -- and work.
Like many of the counties on our list, Rockwall is luring businesses and
jobs
from nearby big cities with generous incentives and a higher quality of life. The latest development is Harbor Heights, a seven-story 110,000 square foot office tower slated to open next year. Major corporations like L-3 Communications and Pilgrim's Pride make their home in the Rockwall Technology Park where more companies are expected to join their ranks.
2. Loudoun County, VA
With one of the nation's highest concentrations of high-tech firms, Loudoun County has been dubbed the "Silicon Valley of the East." Anchoring one end of the Dulles Technology Corridor, the area is home to marquee names like Verizon Business, AO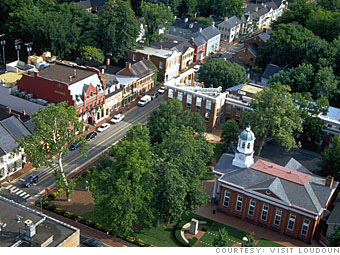 L and Verisign.
The region was once little more than farmland and bedroom communities for D.C.-area professionals. Now it's home to more than 9,000 firms employing more than 130,000 people, and business continues to grow. Chalk that expansion up to a decades-long effort by local leaders to beef up infrastructure. Its proximity to the nation's capital, the Pentagon and Dulles International Airport doesn't hurt either.
You don't have to work in government or high tech to find new opportunities here. Mil-Tek, a company in the recycling industry, recently moved its headquarters to the area, and is expected to bring in 200
jobs
. Moving company JK Moving Services is expanding to add 140 jobs.
What's the key to jobs growth in Williamson County? It could be smart people. Round Rock, the area's commercial hub, boasts that 40% of its residents have a college degree, with 70% of them having some sort of post-secondary education.
3. Williamson County, TX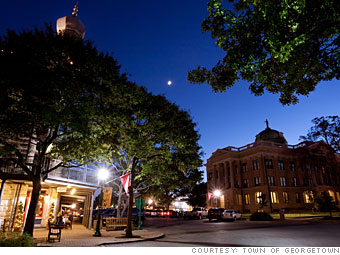 Providing jobs for smart people in Round Rock since 1996 is Dell Computer, Williamson County's biggest employer. Dell has some 15,000 employees here, with plans to add more to staff its new customer
solutions center.
Also hiring is Emerson Process Management. The company, which creates automation technology for heavy industry, is relocating 750 employees to town, with another 125 jobs expected in the next three years.
4. Douglas County, CO
Perched between Colorado's two largest cities, Denver and Colorado Springs, this county is all about big business. Six Fortune 500 companies are based here, including major employers like Liberty Media, the Dish Network and Sprint Nextel.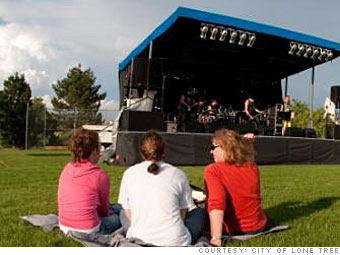 Attracted by a great tax rate, a highly educated workforce and some of the most beautiful country on any side of the Rockies, more companies are moving to Douglas County and bringing
jobs
. In June, thermoplastics maker Gordon Holdings said it plans to relocate here, adding 240 jobs. Meanwhile, insurer CNA opened its western service center here, bringing 300 new positions with it.
5. Hamilton County, IN
One of the lowest unemployment rates in the state helps make Hamilton County theplace for jobs in Indiana. Located just north of Indianapolis, it's also home of the city's wealthiest suburbs.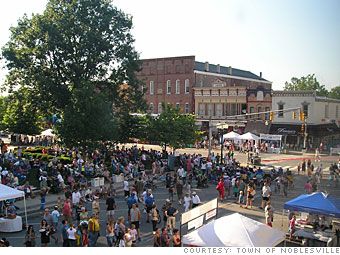 Indiana has embarked on Hamilton County's biggest road project ever: the upgrading of Route 31, a major artery out of neighboring Indianapolis. The project is intended to relieve congestion, cut travel time and speed commerce.
Marsh Supermarkets and Freedom Mortgage are headquartered in the county, while Schwab, U.S. Foodservice and Sallie Mae maintain a regional presence. Recently, Marsh said it is shifting around its offices and adding 130 jobs. A sublease to recruiter First Advantage will bring in 340 people.
6. Delaware County, OH
Planes, trains and automobiles are driving opportunities here. Just about a half-hour north of Ohio's capital Columbus, the county offers easy access to the rest of the Midwest thanks to its municipal airport, service from CSX and Norfolk Southern Railroads, and proximity to I-71.
7. DeSoto County, MS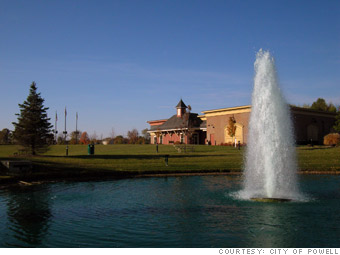 No wonder the county has one of the lowest unemployment rates in the state. Manufacturing is a major source of
jobs
, and small businesses that make everything from auto parts to diapers have been ramping up production.
Meanwhile, Mount Carmel St. Anne's recently broke ground on a $110 million heart center in Delaware County. The facility, expected to open its doors in 2013, should add 60 hospital beds and about 200 new jobs.
7. DeSoto County, MS
Jobs are heading down the Mighty Mississippi to DeSoto County. Located just below the Tennessee border, the area is attracting businesses with lucrative tax breaks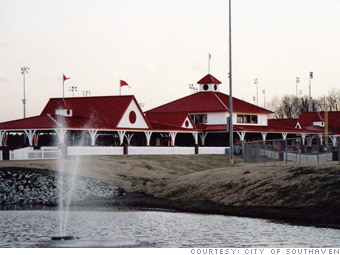 and incentives.
Distribution centers are a popular venture here. Pharmaceutical giant McKesson is building a $120 million hub in Olive Branch (moving 300 jobs from nearby Memphis). Appliance maker Hamilton Beach also is setting one up, relocating more than 100 jobs from Memphis. Then there's lighting tech manufacturer Siemens Industry, which brought about 150 jobs to a new center.
DeSoto County likes to brag that it's become home to more than 200 new and expanding businesses with more than 10,000 added jobs over the last ten years. That's helped keep
unemployment
in the county at an impressively low 8.3%, well under the state's 11% overall jobless rate.
8. Utah County, UT
The National Security Agency likes to keep a low profile, but when America's most secret spy outfit chose Utah County for a massive new cyber-security center, it turned heads -- to the tune of 10,000 construction jobs over the next three years.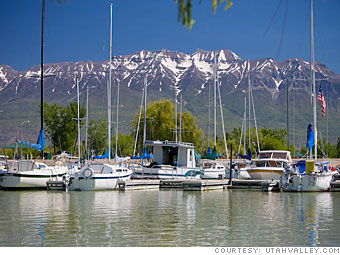 It was a natural choice, though: The county straddles a major Internet backbone in Utah's booming tech hub, and the area's isolation from the East and West Coasts makes it more secure. When the massive Utah Data Center is completed in 2013, it will occupy one million square feet and employ up to 700 workers.
On a smaller scale, other expansions worthy of mention include IM Flash Technologies, which is adding 200 positions to its Lehi plant, and
Overstock
.com, which is creating 150 jobs in a new software development center in Provo.
9. Ascension Parish, LA
Job growth (2000-2010): 46.6%

Heavy industry is slowly coming back to life along the Lower Mississippi River in Ascension Parish. 250 jobs are expected to return to the area when Aluminum producer Ormet reopens its alumina refinery, which was idled five years ago. Add another 100 jobs to that when a refurbished bulk terminal opens its doors in the coming year.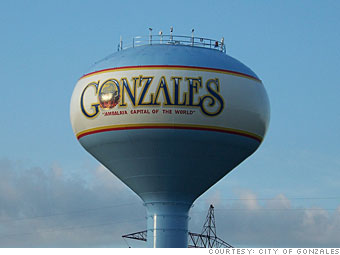 Like many other counties on our list, Ascension has seen its population boom -- up by nearly half in the last decade. To accommodate the growing number of families, five new primary schools were built in the last three years and a sixth is on the way.
Families looking for entertainment could soon find diversion in a former Wal-Mart that a developer wants to turn into an entertainment complex. Plans for a movie theater, bowling alley and arcade could give residents something to do and create 70 new area jobs.
10. Campbell County, WY
Job growth (2000-2010): 43.9%

Coal is king in Campbell County. The region is located in the Powder River Basin, the source of about 40% of all the black stuff consumed in the U.S. The area is also rich in natu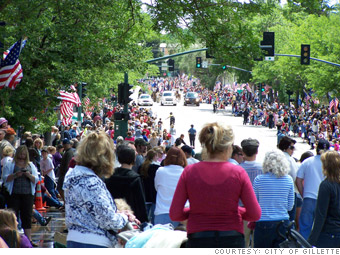 ral gas and oil deposits, which is why Campbell calls itself the "Energy Capital of the Nation."
Mines directly account for a third of all
jobs
in the area. Major employers include Peabody Energy, Arch Coal and Cloud Peak Energy. Like the rest of the nation, Campbell County was hit hard by the Great Recession, but with energy prices on the rise, jobs are edging back up.
Since the local economy is so tied to rising and falling mineral prices, business and community leaders in Campbell County are looking ahead. They've created a five-year plan to attract new industries and help develop small businesses with a series of incentives and tax breaks.
11. Livingston Parish, LA
Job growth (2000-2010): 42.9%

Livingston Parish wants to make the grade with manufacturing. With generous state tax incentives in hand, the area is luring a wide range of businesses to set up shop, including giants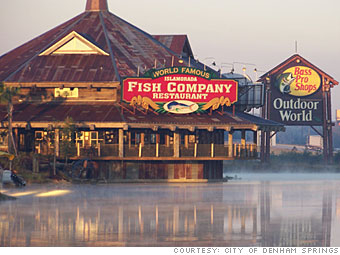 like the Shaw Group and smaller operations like Ferrara Fire Apparatus, a maker of fire engines.
Health care also is becoming a major industry here. North Oaks Health Systems opened an outpatient medical center with 100 workers and plans for 200 more. Meanwhile, Our Lady of the Lake Regional Medical Center broke ground on a facility that should create 200
jobs
.
Also in the works: the long-awaited Juban Crossing, a multi-use development set to open in 2012. Kohl's is slated to be one of the first retailers to open in the complex, which will include office space, homes and medical facilities. Construction is creating an estimated 1,500 jobs, with 5,000 more expected when the site is up and running.