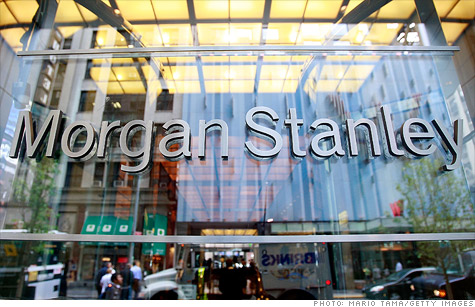 NEW YORK (CNNMoney) -- A pessimistic report on the global economy from Morgan Stanley -- particularly about the United States and Europe -- sent the world's stock markets tumbling Thursday.
European stocks were sharply lower in morning trading. Germany's DAX (
DAX
) fell nearly 4%, while Britain's FT-100 (
UKX
) and France's CAC-40 (
CAC40
) were both down more than 2%.
In its report, Morgan Stanley (
MS
,
Fortune 500
) lowered its global growth forecast to 3.9% this year from 4.2%, and to 3.8% in 2012 from 4.5%.
It also said the United States and Europe were "dangerously close" to a recession over the next 6 to 12 months. It said "policy errors" in both the United States and Europe had led to the global downgrade.
But Morgan Stanley also said any recession would not be as severe as the one that crippled world economies in 2008, saying household, corporate and bank balance sheets are in better shape now, and that central banks have looser lending policies.
American Idiots: How Washington is destroying the economy
August 18, 2011: 5:00 AM ET