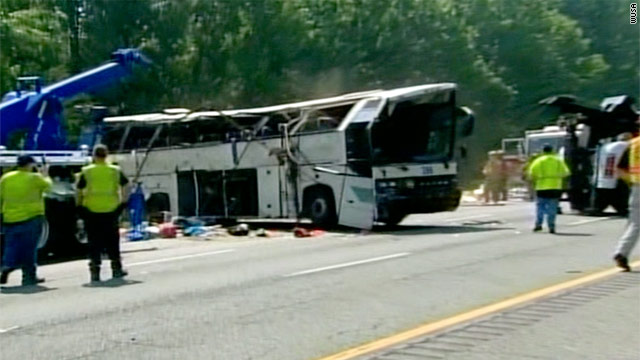 The company that operated a commercial tour bus involved in a deadly crash this week has been issued a cease-and-desist order after the U.S. Department of Transportation said it tried to resume operations under a different name.
Four people were killed and 53 others injured Tuesday when the Sky Express bus ran off Interstate 95 near Fredericksburg, Virginia, and overturned.
Investigators have blamed the wreck on driver fatigue.
The 37-year-old driver of the bus, Kin Yiu Cheung of Flushing, New York, has been charged with four counts of involuntary manslaughter and reckless driving.
The Charlotte, North Carolina-based Sky Express Inc. had been placed out of service Tuesday by the transportation department's Federal Motor Carrier Safety Administration for multiple federal safety violations, which prohibited it from operating interstate transportation services.
The department issued the cease-and-desist order Friday after it said it found the company trying to operate and sell tickets under two new names: 108 Tours and 108 Bus.
"We are relentlessly targeting unsafe and illegal bus companies," Transportation Secretary Ray LaHood said in a statement. "This action sends a strong message that the U.S. Department of Transportation will utilize every legal and enforcement tool available to shut down unsafe bus companies and protect passengers and motorists."
The transportation department also subpoenaed Friday the records of three websites that have sold tickets for the company as the DOT seeks to crack down on "unsafe, reincarnated bus companies."
A call to Sky Express was not immediately returned Saturday, and its website had been taken offline.
CNN's affiliate in Charlotte, WCNC, tried to contact the business Friday, but its building was closed.