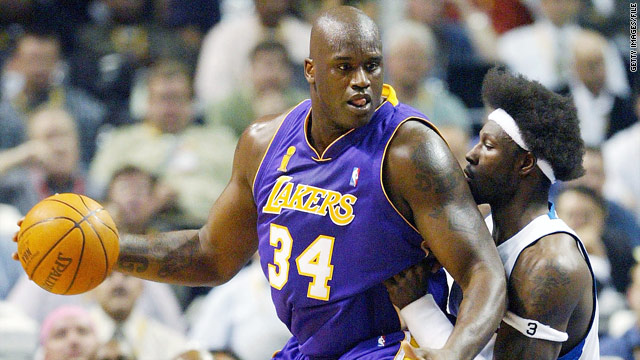 NBA star Shaquille O'Neal appears ready to hang up his size 23 basketball shoes after a 19-year pro run that saw him collect four championships and reach fifth on the league's all-time scoring list.
"We did it. Nineteen years, baby. (I) want to thank you very much. That's why I'm telling you first, I'm about to retire. Love you. Talk to you soon," Shaq said in the video on Tout.com, linked from his Twitter account.
His team, the Boston Celtics, has not announced his retirement, but it did re-tweet one of O'Neal's retirement posts.
O'Neal, a 7-foot-1-inch center, won four NBA titles and reached the league finals two other times. He is fifth on the NBA's all-time career scoring list with 28,596 points - short of only Hall of Famers Kareem Abdul-Jabbar, Karl Malone, Michael Jordan and Wilt Chamberlain - and 12th on the league's all time rebounding list, with 13,099.
Drafted after his junior year at Louisiana State University in 1992, O'Neal would earn NBA rookie of the year honors with the Orlando Magic, with whom he played four seasons and reached the NBA finals in 1995, when the Magic lost to Houston.
He started collecting his championship rings in Los Angeles, with whom he signed ahead of the 1996-97 season. He teamed with Kobe Bryant to win three straight NBA titles from 2000 to 2002, earning NBA Finals MVP awards in all three years.
O'Neal eventually went to the Miami Heat, with whom he would pick up his last NBA championship in 2006.
He went on to play for Phoenix and Cleveland before signing with the Boston Celtics in August. Limited by injury, his points-per-game average was under 10 (9.2) for the first time in his career, and he missed the first round in this year's playoffs before scoring two points in two games in the Celtics' second-round loss to Miami.
Miami star LeBron James, whose team beat Dallas on Tuesday night in the first game of this year's finals, tweeted his respects to O'Neal - his teammate for one year in Cleveland - on Wednesday.
"What a career for Shaq Diesel!!" a post to James' Twitter account said. "The most dominating force to ever play the game. Great person to be around as well. Comedy all the time!!"
Another former teammate, Phoenix Suns guard Steve Nash, tweeted Wednesday: "Congratulations @SHAQ on your quadruple platinum hall of fame career. I know you're not riding off into the sunset...what's next?"
Riding off into the sunset would be hard to imagine. O'Neal has long pursued entertainment interests off the basketball court, appearing in "Kazaam," "Steel" and the basketball film "Blue Chips." He's set to appear in the upcoming film "Jack & Jill," starring Adam Sandler.
As a rapper, O'Neal sold more than 1 million copies of his debut album, "Shaq Diesel." He also expressed interest in pursuing law enforcement opportunities, having worked for the Los Angeles Police Department and the Miami Beach Police Department during some offseasons.