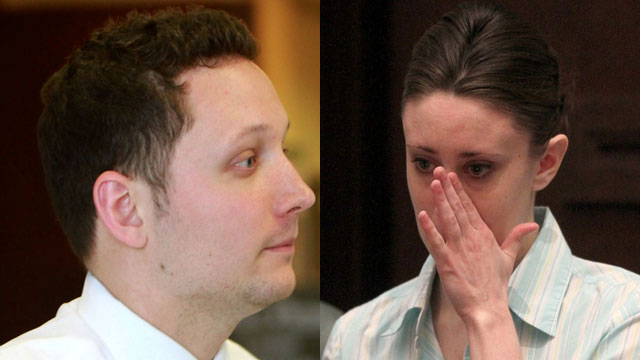 Thursday afternoon's testimony at Casey Anthony's murder trial consisted mainly of friends and acquaintances of Anthony who had relatively brief encounters with her during the 31 days her daughter Caylee was missing.
The most significant news of the afternoon ultimately came after Judge Belvin Perry sent the jury back to their hotel for the day. Casey Anthony's ex-boyfriend Anthony Lazzaro was called back to the stand to proffer testimony regarding the secret she had shared with him that was referred to during his earlier cross examination.
Responding to questions from defense attorney Jose Baez and Judge Perry, Lazzaro said that Casey told him that her brother Lee once tried to sexually abuse her, specifically that he attempted to "feel her up" on her chest but did not succeed. Baez asked if she ever told him anything about her father George molesting her, but Lazzaro said she did not. He said he recalled something about George hitting her as a child to discipline her but he did not know any other details. Baez brought up a deposition Lazzaro gave previously where he said he could not remember whether the alleged abuse by George Anthony was physical or sexual.
It is still unclear if Perry will allow the jury to hear any of that testimony, though. Instead, they spent most of the afternoon hearing about Casey Anthony acting normal and happy after June 16, 2008 and never mentioning to anyone that her daughter was missing.
First, though, during the brief conclusion of ex-boyfriend Ricardo Morales' direct examination, Morales told prosecutor Frank George that he was paid $4,000 by The Globe in August 2008 for photos of Casey and Caylee from the time when they were dating.
On cross, Baez asked Morales about an image on his MySpace page containing the line "Win her over with chloroform." Morales said he posted it because he thought it was funny at the time, but he never had any conversations with Casey about chloroform. He also testified that, while Caylee slept in the bed with them at night, he did not believe they were ever "intimate" with her present.
Like several previous witnesses, Morales stated that Caylee seemed genuinely happy and affectionate when she was with her mother. He did say that he often saw Casey discipline Caylee when trying to get her to go to sleep. He did not go into detail about that but just said she acted like a normal mother putting a child to bed.
The next witness, Melissa England, testified about spending the afternoon of July 3, 2008 with Casey. She said she heard Casey on the phone, she believed with her mother, arguing about money and other issues and Casey mentioned the nanny during that conversation. Later that day, on another call, she heard Casey make up an excuse about having car trouble to get out of plans with other friends. According to England, afterward Casey put down the phone and said, "Oh my god, I'm such a good liar."
England's cross examination was brief, with Baez first asking if she had any information she could share with the jury about how Caylee died, when she died or where she died, and her answer to all of those was that she could not. She also agreed with him that during the few days she saw Casey, she seemed happy, was not acting like anything was wrong and did not say she needed help. Baez began to ask if Casey confided in her about the "horrors" she went through in her childhood but prosecutors objected.
Troy Brown, a friend of Ricardo Morales who was dating England at the time, testified next. Prosecutor Frank George asked about a Facebook conversation he had with Casey around June 24, 2008. In it, Casey said she had not been staying at her parents' house for the last nine days because of "drama" and she would fill him in later about it. Brown also testified about going to bars with Casey on the night of July 3. He said she got upset several times and cried after she received phone calls that he was led to believe were from her brother.
Dante Salati, a friend of Casey since high school, testified about seeing her at a bar on July 1, 2008. He described her to the jury as seeming "free of worry" and said she did not mention that her daughter was missing. On cross, he agreed with Baez that it was shocking to hear what Casey was accused of doing to Caylee, given how much they seemed to love each other whenever he saw them.
Another ex-boyfriend, Christopher Stutz, testified that he saw Casey at a Buffalo Wild Wings on July 7, 2008. He said she was "upbeat and happy" at the time and he did not learn Caylee was missing until he received a text message from Casey's phone in mid-July telling him she had been gone for 30 days.
Baez questioned Stutz about a statement he made to law enforcement that Casey did not like to drink or go out much because she did not want to leave Caylee with her parents, which he confirmed he did say. Perhaps trying to counter the image of the defendant left by the party pictures shown the previous day, Baez had also gotten another witness earlier in the day, Iassen Danov, to verify that he told police Casey was not a heavy drinker and often left parties early.
Thursday's final witness, another high school classmate named Matthew Crisp, told the jury about having lunch with Casey at a Subway on July 7, 2008. He testified that she claimed Caylee was in Sanford for a play date that afternoon. Defense attorney Cheney Mason conducted Crisp's quick cross examination, asking the same series of questions Baez raised with most of the day's witnesses: did you ever see Caylee abused or mistreated; did she ever seem unhappy; do you know anything about how, when or where he died. Like the others, Crisp's answer to all of these was that he did not.
Also on Thursday, TMZ.com reported and Osceola County Clerk's Office records confirmed that the IRS has apparently filed a lien against Casey Anthony for over $68,000 for taxes not paid in 2008.