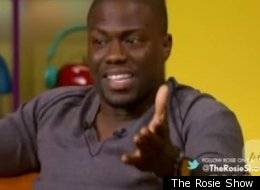 Kevin Hart stopped by
OWN's "The Rosie Show"
Thursday to dish on his divorce and -- not surprisingly -- the comedian has a humorous outlook on the split.
"I moved on, she's happy, I'm happy," he told O'Donnell. "I'm happier than she is, though. I just say it to her all the time. Literally, when I see her, 'I'm happier than you.'"
Hart separated from wife Torrei in February 2010 after nearly eight years of marriage, citing
"irreconcilable differences."
He requested joint custody of the couple's two children and sought to
deny his ex of spousal support
.
However, Hart revealed that he is now on good terms with his ex: "I would never disrespect or put her in the limelight where she would be seen as an ugly vicious person -- that's the mother of my kids," he told O'Donnell. "We just didn't work out, but we're friends."
It's not the first time Hart has used his divorce for comedic fodder;
his concert film
"Laugh At My Pain,"
out this week on DVD
this week, features stand-up about his split