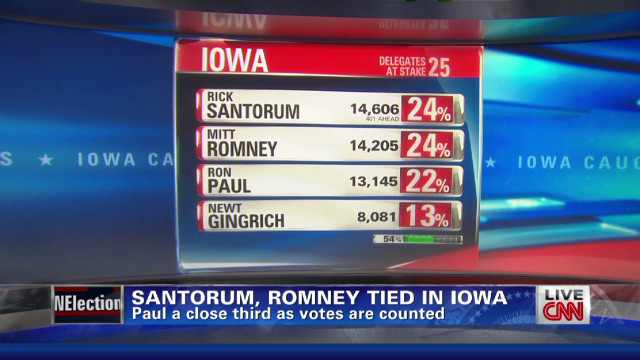 Des Moines, Iowa (CNN)
-- Upstart GOP presidential candidate Rick Santorum, running in single digits in polls a month ago, was neck-and-neck with Mitt Romney for first place in Tuesday night's Iowa caucuses -- the first contest in the 2012 caucus and primary season -- early results showed.
CNN has projected Ron Paul will finish third in Iowa, but the race for first was still too close to call late Tuesday.
And Texas Gov. Rick Perry, running in fifth, said late Tuesday that he would return to Texas to consider whether his campaign would continue.
With 97% of precincts reporting, Santorum, a former U.S. senator from Pennsylvania, had 25% of the vote. Romney, a former Massachusetts governor, also had 25% of the vote, and Paul, a U.S. representative from Texas, had 21%.
Former House Speaker Newt Gingrich was at 13%. Texas Gov. Rick Perry was at 10%, Rep. Michele Bachmann of Minnesota had 5%, and former Utah Gov. Jon Huntsman had 1%.
Romney has long been a front-runner in Iowa and most national polls, but also has been stuck at roughly the same percentage of support as a revolving cast of conservative challengers bounced up and down, with Santorum the latest to rise.
Paul, speaking in Iowa late Tuesday, praised his supporters for a "fantastic showing" and claimed that he and the top two were the caucuses' "three winners," ready to raise money and compete well in the next contests.
"We have had a fantastic showing for this cause and challenging people ... and saying, you know, this challenge of, 'let's go back to this real old-fashioned idea, this very dangerous idea: Let's obey the Constitution,'" Paul said. "We will go on, we will raise the money. I have no doubt about the supporters."
The Iowa results typically are important because they give the top finishers the fuel they need, including fundraising, to keep their campaigns going. Some candidates may now consider whether they're in position to compete in next week's New Hampshire primary and the South Carolina primary on January 21.
Gingrich, whose popularity rose in Iowa late last year on the strength of his debate performances before withering attack ads brought him down, said Tuesday night he would continue his campaign.
"I think that we are at the beginning of an extraordinarily important campaign," Gingrich told his supporters in Des Moines. "The goal of the campaign has to be to replace Barack Obama, but there will be great debate in Republican Party before we are prepared to have a great debate with Barack Obama."
Bachmann, who had hoped for better in Iowa, where she grew up and finished first in a GOP straw poll in the summer before dropping in the polls, also indicate her campaign would continue.
"There will be another occupant in the White House. Who knows, maybe even another Michele in the White House," she told supporters Tuesday night.
Huntsman, a former U.S. ambassador to China, hasn't been competing in Iowa, choosing instead to focus efforts on New Hampshire, site of the first primary, set for January 10.
With Romney considered the runaway favorite in New Hampshire, which neighbors the state he used to govern, the other candidates who continue past Iowa are expected spend a lot of time in South Carolina, hoping to make a stand there.
Several candidates -- Santorum, Gingrich, Perry and Bachmann -- have been positioning themselves as a conservative alternative to Romney, and the leader among them after Iowa may make the case that the supporters of the other three should coalesce around them.
"Mitt Romney doesn't want anybody to drop out," CNN political contributor Ari Fleischer, a former White House press secretary, said Tuesday, suggesting Romney would want to have the anti-Romney vote split as many ways as possible. "Rick Santorum wants everybody to drop out."
Before Bachmann spoke Tuesday night, CNN chief political analyst Gloria Borger said Bachmann would have to do some "soul searching" about whether to continue her campaign.
"She's not going to have the money to continue. She won the (GOP) straw poll in Ames in August ... She made a big point that she was born in Iowa, that this was going to be her state," Borger said.
Obama, who is not expected to face a major challenge for the Democratic nomination, spoke to caucus-goers in an interactive video-teleconference to Democratic caucus sites Tuesday night.
He touted the end of the war in Iraq, health care reform and making college more affordable as some of his achievements — a similar message to the "promises" campaign video rolled out this week.
"In some ways, I'm more optimistic now than I was when I first ran, because we've already seen change take place," Obama said in the teleconference. "And part of what 2012 is about is reminding the American people how far we've traveled and the concrete effects that some of our work has had in terms of making sure people have health insurance and making sure our troops are coming home, or making sure people are able to go to college.
"Part of it is also framing this larger debate: What kind of country are we going to leave for our children and grandchildren?"
Early numbers from Tuesday's entrance polls -- a sampling of Iowa voters as they headed into their caucus sites throughout the state -- showed a similar breakdown in support, with Paul, Romney and Santorum in a virtual first-place tie, and Gingrich, Perry and Bachmann in fourth, fifth and sixth, respectively.
In the entrance polls, Paul showed the strongest support among voters aged 17-29, while Romney was the preference of those 65 and older. Strong support for Santorum was expressed among those 45-64.
Romney was the GOP front-runner in several major Iowa polls last week, with Paul second and Santorum third.
Santorum's campaign reported that his surge in the polls was fueling a 300% to 400% daily increase in fundraising over the past 10 days. The campaign has collected more money over the past month than it has raised in the past six months, according to a senior Santorum adviser.
In the hours leading to Tuesday's caucuses, Santorum downplayed expectations a touch. Asked if he was feeling confident about caucus night, he said: "Well, I feel like if we can crack the top three, that would be great."
Santorum said his strong background as a social conservative better positions him for a win in 2012 rather than a more moderate candidate.
"I would suggest that if you look at the history of Republican nominees ... moderate candidates who are there to appeal to more moderates ended up losing," Santorum said in an event in Polk City.
Perry, whose standing in polls declined after a series of lackluster debate performances, had been characterizing the race as a long haul in recent days as Santorum has pulled away from him and the rest of the middle of the pack. Perry's team has argued that Paul and Santorum are not viable candidates in the long run.
"I'm the only person who has got a national organization, who has the ability to raise the money nationally, and has the ground game in these other states to do that," Perry said hours before the Iowa caucuses. "... It's not Rick Santorum. And frankly, Rick is going to have a real problem when he leaves and people start vetting his background from a fiscal conservative standpoint. This guy is the king of earmarks and pork barrel spending. ... He's got some real bags that he's going to have to explain to people, and that's going to be a problem for him."
The Iowa caucuses began at 7 p.m. Tuesday in 809 locations after months of pitches from GOP candidates vying for the chance to take on President Barack Obama in November.
As the caucuses approached Tuesday, Gingrich escalated his war of words with Romney, saying the former Massachusetts governor was less than honest by claiming he has no link to a political action committee that has produced anti-Gingrich TV ads.
Asked by CBS on Tuesday if he would call Mitt Romney a liar, Gingrich answered flatly, "Yes."
Gingrich said Romney needs to be honest with voters about his record.
"I think he ought to be honest with the American people and try to win as the real Mitt Romney and not a consultant-guided version that goes with talking points. I don't think he's being candid and that will be a major issue," Gingrich said.
Gingrich, who surged to the top of polls in November after a string of strong debate performances, came under withering fire from ads paid for by super PACs that support Romney, and subsequently crashed back into the pack.
Paul's campaign also went on the attack against the front-runner, launching a one-minute radio spot calling the former Massachusetts governor a "liberal" who has supported government bailouts, health care mandates and big government.
The ad was running in Iowa on Tuesday morning and afternoon.
The announcer reads, "Mitt Romney can't fight against Obama-care because he supported the same mandates and government takeovers as governor of Massachusetts. Romney can't stand up against more bailouts because he supported them. He can't lead the charge to shrink the government because he has grown it."
Romney, making his second bid for the nomination, gave his standard stump speech Tuesday morning to a small crowd in Des Moines. He told CNN's Candy Crowley that he expected to do well Tuesday night and defined that as finishing in the "top three."
Crowley noted that the rally had all the trappings of a presidential campaign, with Romney trying to keep his distance from his Republican rivals.
Romney didn't take questions from reporters. He ignored reporter's repeated requests for reaction to Gingrich calling him a liar.
After speaking confidently Monday of his chances to win his party's nomination, he used the rally Tuesday to go after Obama.
"He went on the 'Today' show shortly after being inaugurated and said that if he's not able to turn around the economy in three years, he'd be looking at a one-term proposition," Romney said of Obama. "I'm here to collect. He's out."
How the candidates compare online
Iowa ad spending down, but negative ads are up
Huntsman, a former U.S. ambassador to China, continued to focus on New Hampshire on Tuesday. One of his campaign stops was in Pembroke, New Hampshire.
"All I can tell you is, we are going to exceed market expectations," Huntsman said in Pembroke. "... Give it about 24 hours and the bright light will be on New Hampshire and the results of the Iowa caucuses will be forgotten."