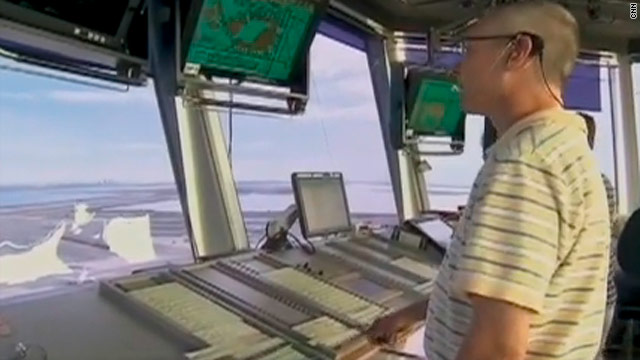 The headlines are glaring, even frightening: Air traffic controllers asleep on the job.
Tune in to any news report these days and it seems there is another report of a controller under investigation or suspended for falling asleep while they were supposed to be monitoring America's skies -- from
a controller found sleeping in Reno, Nevada
, while a medical flight was trying to land to two other controllers in Lubbock, Texas, who failed to respond to radio traffic about an inbound flight.
The answer is one federal aviation and safety officials have been grappling with for three decades, and the National Transportation Safety Board is expected to take up the issue Monday during a media roundtable where it is scheduled to discuss recommendations to combat fatigue.
"It's been known for 30 years. The same studies have been repeated and repeated. Everybody knows what the answer is. Everyone knows what the common practice has been," said Bill Voss, president of the nonprofit Flight Safety Foundation in Alexandria, Virginia.
"I think inside the profession, everybody knows this goes on," he told CNN recently.
The issue goes beyond job performance. Air traffic controller fatigue has been attributed as a factor over the years in a number of accidents, including near misses and runway collisions.
The NTSB has made more than 80 recommendations aimed at reducing controller stress and fatigue since 1981, the year that then-President Ronald Reagan fired thousands of unionized air traffic controllers for illegally going on strike. Most, according to NTSB records reviewed by CNN, have not been adopted.
As late as 2007, following the investigation into the 2006 crash of Comair Flight 5191 that killed 49 people, the NTSB recommended increasing the number of breaks given to air traffic controllers, offering fatigue awareness training and making changes to controller schedules. The NTSB was unable to determine whether fatigue contributed to the Comair accident.
The blame game among lawmakers and federal aviation officials escalated this month as more fatigue-related incidents came to light, culminating April 14 with
the resignation of Kurt Krakowski
-- the official in charge of operating the air traffic control system.
Transportation Secretary Ray LaHood has ordered a top down review of controller duties and scheduling practices, and the Federal Aviation Administration's administrator, Randy Babbitt, has already announced staffing increases from one controller to two at towers open 24 hours. Additionally, the FAA has increased time off between shifts from eight to nine hours and it has banned the long-standing practice of working a midnight shift after a weekend to arrange a three-day weekend.
But the National Air Traffic Controllers Association, which represents 20,000 controllers, engineers and other safety-related professionals in the United States, said the steps don't go far enough.
The union's president, Paul Rinaldi -- who wrapped up a listening tour earlier this month with Babbitt where they heard controllers' concerns and reinforced that sleeping on the job would not be tolerated -- said for years that the union has lobbied the FAA and Congress to address controller fatigue "before it's too late."
"We support the FAA's recent action to eliminate single staffing on the midnight shift. These changes, however, barely scratch the surface of the problem, " he said in a statement Friday.
But Rep. John L. Mica, chairman of the House Transportation and Infrastructure Committee, has criticized the FAA's decision to add more controllers to towers.
"Only in the federal government would you double up on workers, averaging $161,000 per year in salary and benefits, that aren't doing their job," said Mica, R-Florida. "This increase in staffing, when there is little to no traffic, also misdirects our resources and focus away from congested air traffic control facilities."
There are currently 15,475 air traffic controllers, many of them newly hired to replace a wave of expected retirements in the next few years. The FAA has a mandatory retirement age of 56 for those who manage air traffic, and many of those expected to retire were hired after Reagan fired striking controllers.
"There is a lack of professionalism that seems to have taken hold in the controller workforce," said Voss, who also worked as an air traffic controller. "Some of these events were embarrassing personal behavior issues. Those issues need to be dealt with immediately with disciplinary action. There's no debate about that."
"It was a relatively small and understandable mistake that should not have resulted in any retribution against the controller whatsoever," he said.
Pete Burgess, an aviation analyst who worked as a controller and a supervisor for more than 30 years, said controllers have to take personal accountability for their actions.
"If they are not getting enough sleep, they have to ask themselves why," he said. "Did they end up staying up because they were doing work around the house?"
Burgess, who runs Burgess Aviation Consultants in Fort Worth, Texas, said that rather than spending a lot of money to conduct studies and hire more controllers, the FAA should consider taking more sensible steps, such as having controllers working the overnight shifts to make regularly scheduled radio broadcasts.
"It sounds archaic," Burgess said. "But it doesn't cost money."
All of this, though, poses the question whether it's safe to fly America's skies. The answer depends on who you ask.
The reports of sleeping air traffic controllers haven't scared off David Hopkins, 49, who flies about once a week for work. But Hopkins, of Cedar Rapids, Iowa, said he's noticed a lot of talk about it among passengers at airports and on airplanes.
If a plane is late taking off or doesn't land as scheduled, "you hear people make jokes," he said. "They say things like, 'I hope they aren't sleeping,'" said Hopkins, who works for a pipeline construction company.
Hopkins, who has logged tens of thousands of air miles this year, said he believes the controllers are doing their job. He said last week that he was on a plane preparing to land at Pittsburgh when the pilot announced that an air traffic controller had ordered the plane to circle back around because it would have been too close to another inbound flight.
"That tells me they are still in the towers and they are still functioning," he said.
But for 23-year-old Lashonda Benson, of Atlanta, who flies infrequently, the reports are worrisome.
"It only takes one mistake, right?" said Benson, who works as a restaurant hostess.
And while she said she wouldn't cancel a trip because of the recent reports, Benson, who describes herself as a nervous flier, said she wouldn't be at ease until her feet were on the ground.
Burgess, however, said the numbers speak for themselves.
"When you look at the millions and millions and millions of air miles logged every year, it's a lot safer than being on the freeway," Burgess said. "All you have to do is look at the few isolated incidents. It doesn't have to do with safety as much as it does accountability."