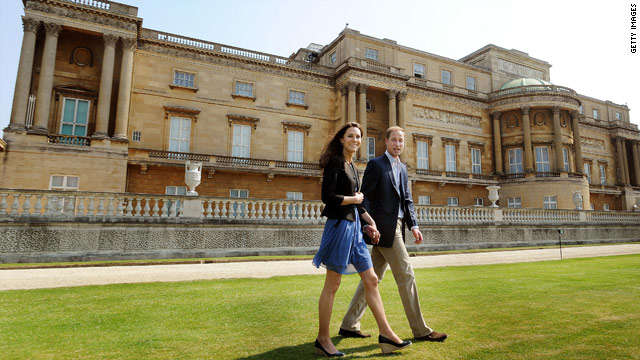 Well, eventually. The Duke and Duchess of Cambridge have opted to hold off on a honeymoon, instead choosing to have a private weekend to themselves in the United Kingdom in an unknown location - because Prince William has to return to work as a search and rescue pilot next week.
"The Duke returns to work and their future honeymoon, which will be overseas, will not be disclosed in advance," a statement from Clarence House said.
So we'll just have to wait and see where the couple will spend their private getaway, another secret likely to be kept just as well as who was going to be designing Middleton's wedding dress.
Speaking of Middleton's fashion - the world got another glimpse of the new bride when photographers snapped photos of her and the Duke of Cambridge leaving Saturday by helicopter for their weekend alone.
The pair stepped out of the garden entrance to Buckingham Palace hand-in-hand with bright smiles - and the sun still shining.
The style as they set off to their unknown location remained regal, but relaxed with the palace backdrop behind them was in contrast to the ornate outfits during the wedding as well as the fashion from the reception party that followed.
For the private nighttime reception Middleton was photographed standing next to Prince Charles' wife, Camilla, the Duchess of Cornwall, wearing a white strapless gown with embellishments at the waist and a sweater - again from famed Sarah Burton of Alexander McQueen. The groom and his father also made an outfit change for the night - opting for formal dinner jackets. Other media outlets photographed maid of honor Pippa Middleton, Catherine Middleton's sister, in an emerald green dress with a plunging neckline.
And while the couple jet sets for some time away from the camera - one thing is clear. Catherine Middleton has impressed the masses and fashion experts with her fashion choices and soon enough, the lightbulbs will be flashing to capture her outfits for years to come.
What did you think about the Duchess of Cambridge's choice of outfits? And which did you like best? Let us know in the comments below.