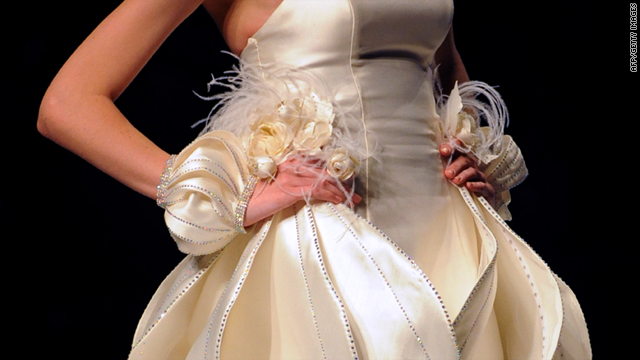 (C If you're among the 1,900 or so high society bigwigs, politicians and royals who've received an invitation to the most anticipated wedding of the decade, now's the time to start brushing up on your formal attire.
The marriage of Kate Middleton to Britain's Prince William, billed for April 29 at Westminster Abbey in London, is sure to be a sartorial extravaganza. But for guests, getting the dress code just right is a minefield of unwritten rules and customs.
The trick is "being both fashion forward on the one hand and retaining a sense of tradition and reverence on the other," says Peta Hunt, fashion director of upscale wedding magazine You&Your Wedding. "It's a very fine line to tread."
The invitations give only a minimal account of the dress code, stating: "Uniform, Morning Coat or Lounge Suit."
So, what exactly does that mean for male and female guests?
For the guys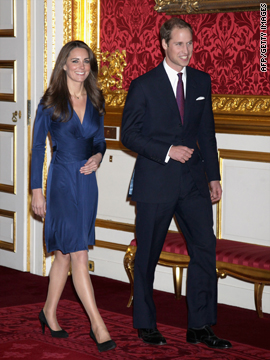 Andrew Goldberg is General Manager of tailoring atGieves and Hawkes on Saville Row in London, a street famed for its exceptional couturiers.
He oversees the company's bespoke tailoring service and has crafted outfits for members of the royal family.
Goldberg expects most male guests to be decked out in morning suits -- a familiar ensemble among the English upper crust consisting of long tails, a tie and a waistcoat.
"This garment originally would've been worn by gentleman riding their horses in the morning," he said. "And now it's for formal wedding occasions."
He anticipates that most attendees will go for classic colors: "You will see blues, a dove gray or a buff color."
They may be simple, but they certainly aren't cheap. "For a bespoke suit, we would be looking in the region of around $7,500," said Goldberg.
Hunt points out that the two-piece, contemporary-style lounge suit is "definitely for the racier boys," and notes that its inclusion will have surprised the more conventional fashion watchers.
Fact Box
Peta Hunt's wedding fashion faux-pas
For women:
"Never wear anything that might upstage the bride."
"A little bit of flesh on the shoulder and a fraction of cleavage is fine, but no more."
"Absolutely no tiaras for anyone but the bride."
For men:
"No velvet, linen or tweed suits."
"If you're going for a lounge suit, avoid pin-stripe or anything that might look too 'office-y.'"
"Man-bags are out of the question."
But under no circumstances should guests take this as their cue to play fast and loose with tradition, warns Hunt.
"It would be very bad form if anyone turned up dressed like a rock 'n' roll star in a white suit, or anything too unusual," she said. "Those wearing lounge suits should still stick to gray, black, blue, perhaps dark brown if you're feeling especially fruity."
So is there no wiggle room for a bit of pizzazz? As far as Hunt is concerned, any twists on convention should be restricted to the finer details: cufflinks and ties.
"There's room for maneuver with ties -- you can go with a very bold color or even a floral pattern. But this is still not the time to bring out your Homer Simpson party number," she said.
Hunt added that those who still want to flaunt their wild side should check out designers such as London-based gentlemen's outfitterMarc Wallace. "He creates beautiful, classic-cut suits but with ultra flamboyant, kaleidoscopic linings," she said.
For the girls
If the rules seem complicated for the guys, for the girls they're positively cryptic. "The invite doesn't mention anything about what the female guests should wear," noted Hunt. "They just have to take their cues from the men's dress code."
For a spring late-morning wedding, Hunt expects most of the women to be politely attired in "shift" dresses -- "straight, loose-fitting dresses, worn with a nice neat jacket over the top," she explained.
The wedding fashion expert says that women get more scope for color and variation, but that this only makes matters more complicated.
We're a nation of hats, bags and shoes so this is where the real catwalk will be taking place
--Peta Hunt, fashion editor
"They should stick with pastel shades, perhaps a subtle floral pattern," she said "If you want to be daring, cream isn't out of the question, even white -- as long as it looks nothing like a wedding dress!"
In any case, when it comes to British royal weddings, it's all in the accessories.
"We're a nation of hats, bags and shoes, so this is where the real catwalk will be taking place" explained Hunt.
As far as hats go, the Abbey is the limit. "The hats will no doubt be grand and extravagant. But everyone will be squashed into the Abbey together, so they really can't go too big, or it's going to be a logistical nightmare."
And for women who want to avoid the dreaded "hat hair," then a fascinator -- "a delicate headpiece with a feather or flower attached to the side" -- is the way to go.
Finally, there's one rule that trumps all the rest: "Never, ever try and upstage the bride," decreed Hunt. "This is not the time to be wearing your 'it should have been me' dress."
Ladies, you've been warned.