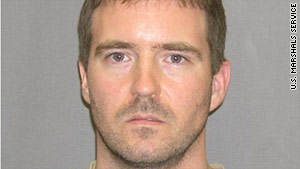 A superseding indictment in the attempted bombing of a Martin Luther King Jr. Day parade in Washington state accuses the suspect of a hate crime, the U.S. Justice Department said Thursday.
Kevin Harpham, 36, of Colville, Washington, last month pleaded not guilty in federal court to attempting to use a weapon of mass destruction and for possessing an unregistered explosive device.
The new indictment has two additional charges, including an allegation he planted the improvised explosive device "because of actual or perceived race, color, and national origin" of march participants, the department said in a statement.
Federal authorities arrested Harpham March 9, nearly two months after the January 17
discovery of a backpack containing a bomb
along the Martin Luther King Day parade route in Spokane, Washington. The device was disabled before the event began.
Officials called it an incident "of domestic terrorism" that could have resulted in "mass casualties," had the bomb gone off.
According to the
Southern Poverty Law Center
, which monitors extremist groups, Harpham frequently posted incendiary comments on white supremacist websites.
In 2004, according to the Poverty Law Center, Harpham allegedly stated, "I can't wait till the day I snap," in a posting on the white supremacist website the Vanguard News Network.
Harpham also allegedly wrote, "Those who say you can't win a war by bombing have never tried," according to the SPLC, which attributed more than a thousand postings to the accused would-be bomber on the Vanguard website.
Vanguard advertises itself on the site as "No Jews. Just Right."
Although the posts did not carry Harpham's name directly, Law Center officials said they had come to know him by his writing, and recognized his work as it appeared online.