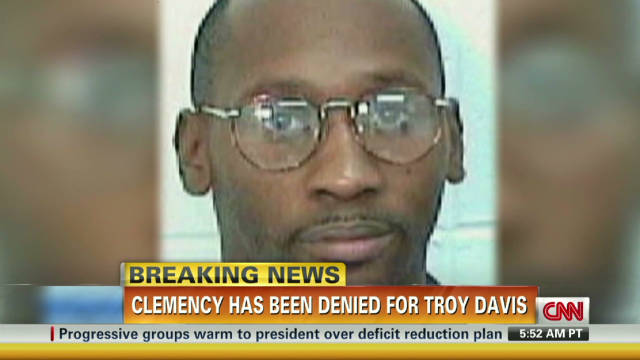 Atlanta (CNN) -- Supporters of death-row inmate Troy Davis vowed Tuesday to continue fighting to stave off his scheduled execution, despite a decision by the Georgia Board of Pardons and Paroles to deny clemency.
"We're calling on anyone who has any
power
to stop this grave injustice from occurring." Laura Moye, campaign director for Amnesty International USA, said at a news conference.
Davis is scheduled to die by lethal injection Wednesday night in Jackson, Georgia, for the 1989 shooting death of off-duty police officer Mark MacPhail.
The parole board declined to
grant
Davis clemency Tuesday following a hearing Monday in which it heard testimony calling into question physical evidence and witness statements that a Chatham County jury relied on in convicting Davis in 1991. In Georgia, only the board -- not the governor -- has the right to grant clemency.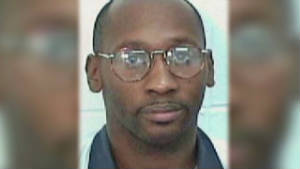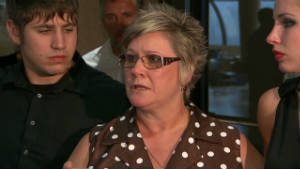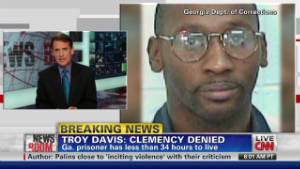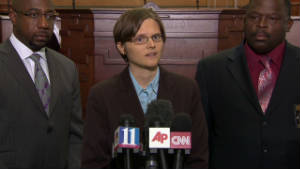 Since Davis' conviction, seven of the nine witnesses against him have recanted or contradicted their testimony. Davis' supporters say the original witnesses were fearful of police and spoke under duress.
Other witnesses also have since come forward with accounts that call Davis' conviction into question, according to his supporters.
One, Quiana Glover, spoke at a news conference held by Davis supporters Tuesday at
Ebenezer Baptist Church
in Atlanta.
"There is no evidence against this young man," Glover said.
She said she told the parole board that she heard another man confess he killed MacPhail.
Davis' supporters argue he was the victim of a rush to judgment by police seeking justice for the death of one of their own, as well as widespread racial prejudice in the criminal justice system.
"This is a civil rights violation and a human rights violation in the worst way," said the Rev. Raphael Warnock, the senior pastor at Ebenezer. "To execute a man with this much doubt does not bode well for any of us."
Davis has gained international support. Public figures including Pope Benedict XVI, Desmond Tutu and former President Jimmy Carter, entertainers such as Susan Sarandon, Harry Belafonte and the Indigo Girls, and others have joined with Amnesty International, the NAACP and other groups in supporting Davis' efforts to be exonerated.
He has been scheduled to die three times before, most recently in October 2008, when the U.S. Supreme Court granted a stay two hours before he was to be executed.
Supporters said they will call on Chatham County District Attorney Larry Chisholm to ask a superior court judge to cancel the death warrant calling for Davis' execution and they also are seeking involvement from President
Barack Obama
.
Efforts to reach Chisholm were unsuccessful Tuesday.
But the man who originally prosecuted the case, Spencer Lawton, said those who do not believe there is physical evidence in the case are wrong.
"There are two Troy Davis cases," he said. "There is the legal case and the public relations case. We have consistently won in court, and consistently lost in the public relations battle.
While the parole board did not comment on the reasoning for its decision, it said in a statement that it "considered the totality of the information presented in this case and thoroughly deliberated on it" and still opted to reject the request.
According to prosecutors, Davis was at a pool party in Savannah when he shot a man, Michael Cooper, wounding him in the face. He then went to a nearby convenience store, where he pistol-whipped a homeless man, Larry Young, who'd just bought a beer, according to accounts of the case.
Prosecutors said MacPhail rushed to the scene to help, but wound up being shot three times by Davis. They said Davis shot the officer once in the face as he stood over him.
A jury convicted Davis on two counts of aggravated assault and one count each of possessing a firearm during a crime, obstructing a law enforcement officer and murder. The latter charge led to the death sentence.
Davis' lawyers, in a federal court filing, insisted that there is "no physical evidence linking" Davis to MacPhail's murder. They point, too, to "the unremarkable conclusion" of a ballistics expert who testified that he could not find definitively that the bullets that wounded Cooper and killed MacPhail were the same.
"We believe that we've established substantial doubt in this case," said Stephen Marsh, Davis' defense attorney. "And given the level of doubt that exists in this case, we believe that an execution is simply not appropriate."
Georgia's attorney general, in an online statement, claimed that the expert said the bullets came from the same gun type and noted that casings at the pool party shooting matched -- that is, came from the same firearm as -- those found at MacPhail's murder scene.
While reviewing Davis' claims of innocence last year, the U.S. District Court for the Southern District of Georgia found that Davis "vastly overstates the value of his evidence of innocence."
"Some of the evidence is not credible and would be disregarded by a reasonable juror," Judge William T. Moore wrote in a 172-page opinion. "Other evidence that Mr. Davis brought forward is too general to provide anything more than smoke and mirrors."
Such opinions have not swayed Davis' supporters.
"This is one of the most egregious examples of injustice that I have seen in years." the Rev. Al Sharpton said in a statement after the parole board's decision.
Moye said the board had failed to act as a fail-safe against a legal system that she said has already ignored the truth.
"We are facing an international human rights scandal," she said.
MacPhail's mother, Anne MacPhail, said she didn't begrudge protesters their opinions. But she said they don't understand the facts of the case.
"To them the point is the death penalty. Ninety-nine percent have absolutely no idea who Troy Davis is or who Mark MacPhail was," she said. "They're just following their belief."
MacPhail's widow, Joan MacPhail, said after the parole board hearing Monday that talk of Davis as a victim is "ludicrous."
"We have lived this for 22 years. We know what the truth is," she told reporters
With the board's decision in hand, the process to prepare for Davis' execution continued. Davis declined to request the special last meal offered inmates prior to execution. Instead, he will be offered a standard meal tray: Grilled cheeseburgers, oven-browned potatoes, baked beans, coleslaw, cookies and a grape drink.
Warnock, who said he met with Davis Monday at the Georgia Diagnostic and Classification Prison, said Davis is in good spirits despite his situation.
"His faith is strong," Warnock said. "He talked about his faith and he talked about his family. He said that he is already victorious regardless of the outcome."