Watch President Obama's address to Congress and the nation at 7 p.m. ET to hear his plan for job growth in America. Watch our special coverage live on CNN, CNN.com and the CNN apps for iPhone/iPad beginning at 6 p.m. ET, followed by the president's speech, and then insight and analysis on

"AC360°"

at 8 p.m. ET.
Washington
A titanic political battle took shape Thursday as Republicans began criticizing President Barack Obama's jobs plan before he unveiled it at a joint session of Congress, while the White House and Democrats promised to push for approval of the proposals.
White House spokesman Jay Carney told CNN that Obama will send Congress legislation titled the American Jobs Act next week, based on the plan that Democratic sources have said could exceed $300 billion in tax cuts, extend unemployment benefits and offer other measures intended to boost job creation and economic growth.
"He will challenge Congress to examine what he's put forward, to recognize that all of these ideas are bipartisan in nature," Carney said. "They're the kinds of things that Republicans and Democrats have broadly supported in the past. And that, therefore, given the fact that they're paid for, given the fact that the economy needs help and that Americans need help, Congress should act right away and get it done."
Republicans, however, sounded like they had their minds made up already. Senate Minority Leader Mitch McConnell said Thursday morning it will be another attempt at failed stimulus policies.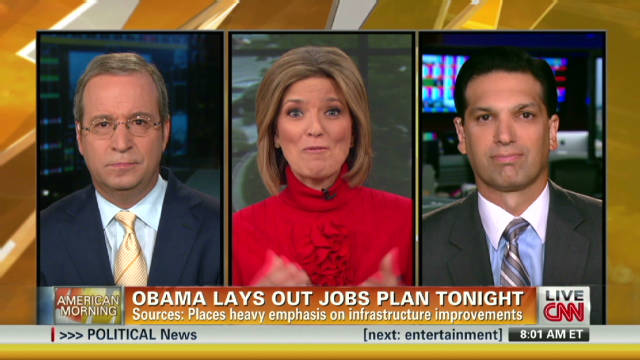 Challenges facing Obama's jobs plan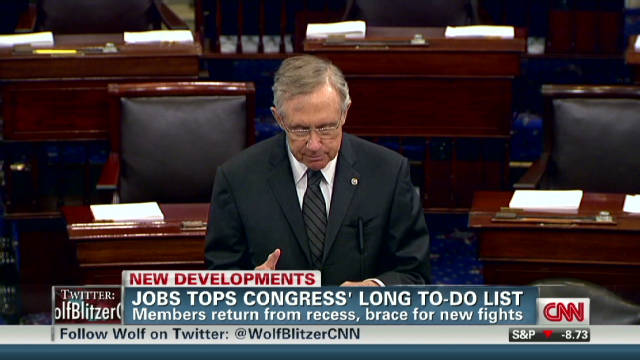 Jobs top Congress' agenda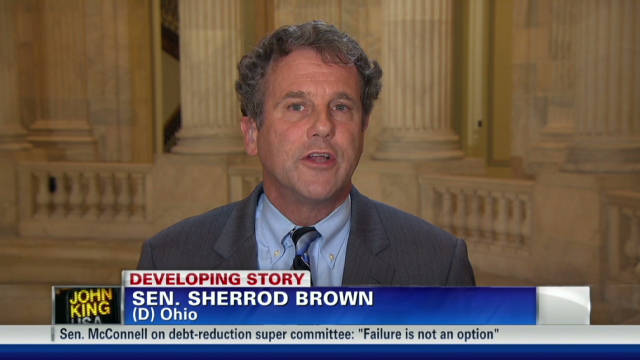 Brown hopeful GOP will work with Obama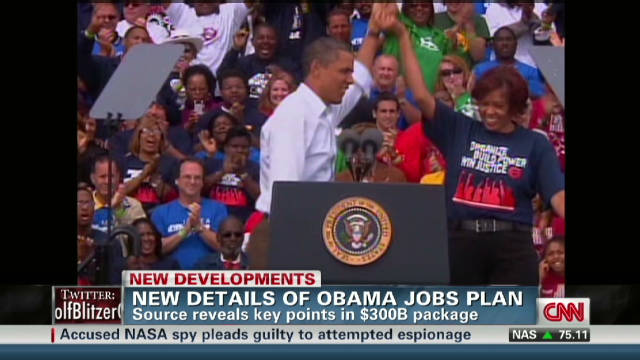 Jobs speech a make or break moment?
"The definition of insanity, Albert Einstein once famously put it, is to do the same thing over and over again and expect a different result," McConnell, R-Kentucky, said on the Senate floor. "Frankly, I can't think of a better description of anyone who thinks the solution to the problem is another stimulus. The first stimulus didn't do it. Why would another?"
Obama's plan comes as unemployment remains lodged at 9.1% with no new jobs reported in August, raising fears of a possible return to recession. With 14 months to go until the presidential election, he wants the plan -- as well as the speech to Congress to present it -- to clearly illustrate to the American public the ideological differences between his policies and those of the Republican right.
One Democrat familiar with the package said Wednesday that the working figure was growing and could top $400 billion. The plan would be paid for partly by closing corporate loopholes and raising taxes on the wealthiest Americans in the future, another Democrat familiar with the plan told CNN.
A legislative struggle is certain. Republicans call for corporate tax cuts and deregulation as steps to spur job growth, opposing what they label new stimulus spending.
The Democratic leader in the Republican-controlled House -- Rep. Nancy Pelosi of California -- asked the ranking Democrats on committees that will consider the legislation proposed by Obama to urge their Republican chairmen to "schedule immediate hearings and legislative action" on the measures.
House Speaker John Boehner, meanwhile, invited 12 business leaders -- dubbed "job creators" in his statement -- who have been affected by regulations enacted by the administration.
These are "people with real world experience on how the regulations coming out of this administration are impeding their ability to grow their business and create jobs," Boehner's statement said.
At least five Republicans -- two senators and three House members -- don't plan to attend the speech, which McConnell said was more of a political event than a policy statement.
"By all accounts, the president's so-called jobs plan is to try those very same policies again and then accuse anyone who doesn't support them this time around of being political and overly partisan, of not doing what's needed in this moment of crisis," he said. "This isn't a jobs plan. It is a re-election plan."
The Obama plan could include $120 billion to extend the current payroll tax cut, according to a Democratic source familiar with the plan. The cut, which has cost $112 billion so far, allows employees to pay 4.2% instead of 6.2% on their first $106,800 of wages into Social Security.
Obama's proposal could also include $50 billion to extend unemployment benefits, which were lengthened to the current 99-week maximum in 2009. Top Democrats argue that such money will immediately be pumped back into the economy in the form of new consumer spending.
In addition, the plan could propose $100 billion for infrastructure development such as repairing roads and bridges.
Steve Bell, senior director of the bipartisan Economic Policy Project, said Wednesday that the scope of the plan is too small.
"It doesn't even sound good," he said, arguing instead for a $640 billion, 12-month payroll tax holiday for employers and employees.
Greater access to credit and more economic predictability are what are important to business owners, said Patty Briguglio, who owns a public relations firm.
"I want leadership that gives me an environment where I can plan for the future," she said.
Among the other options believed to be under consideration by the administration is $30 billion to refurbish schools, along with more money in state aid for teachers and first responders.
Cash-strapped municipalities could receive federal assistance through a new version of the expired Build America Bonds program, which allowed state and municipal agencies to issue taxable bonds, with the federal government subsidizing 35% of the interest payments. Money raised through a renewed version of the program could be used for a variety of infrastructure projects.
Obama's proposal could also include patent reform and the creation of an "infrastructure bank" started with as little as $10 billion to help spur new private-sector projects. Ultimately, interest paid on the loans would make the bank self-sufficient.
Meanwhile, small businesses could be targeted with a number of incentives designed to encourage hiring, including an employer payroll tax cut, tax cuts for hiring Iraq and Afghanistan war veterans, and tax credits for hiring the long-term unemployed.
Obama may also propose a new jobs training program modeled on a Georgia initiative that allows those receiving unemployment insurance to be placed at a local company for up to eight weeks of training.
In addition, a repatriation tax holiday has been under consideration. American corporations currently have more than $1 trillion stashed overseas to avoid paying the 35% corporate tax rate. If lawmakers were to pass a repatriation measure, companies may be allowed to bring that money back to the United States while paying a reduced tax rate.
Proponents of such a measure argue that corporations could use the funds to hire more workers.
Looking abroad, the president is considered likely to renew his push for congressional approval of stalled free trade deals with South Korea, Colombia and Panama. The measures, despite the congressional roadblock, have relatively broad bipartisan support