Troy Davis And Lawrence Brewer, A Tale Of Two Executions
James Byrd Jr. , Lawrence Brewer , Troy Davis , Troy Davis Death Penalty , Troy Davis Execution ,
Black Voices News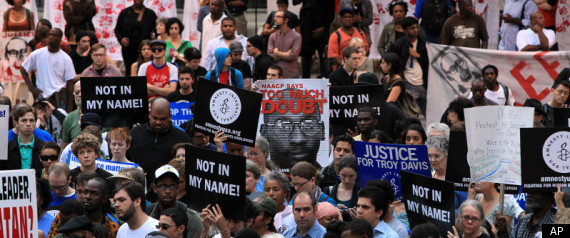 The two men are scheduled to die at the same time, Brewer at 6 p.m. Central Time and Davis at 7 p.m. Eastern Time.
The similarities in the two cases end there.
While an ex-president, former federal officials, the pope and millions of supporters worldwide have called for clemency in the Davis case, few have suggested that Brewer should be spared.
Davis has maintained his innocence. No weapon or physical evidence was ever found linking Davis to the killing of officer Mark MacPhail in a Burger King parking lot. Seven of nine witnesses who initially fingered him have since recanted, some saying that they were forced by police to identify Davis as the shooter.
Brewer, on the other hand, has reveled in his crime. His rap sheet included stints in prison for drug possession and burglary. He joined a white supremacist gang while locked up. In jailhouse letters written after Brewer was arrested for the Byrd murder, he boasted about the killing and the thrill of it.
He also wrote to one of his co-defendants that they had become bigger stars than O.J. Simpson and that he welcomed the death penalty. Lethal injection, he wrote, would be "a little old sleeping medicine."
James Byrd's family has asked that Brewer's life be spared.
"Life goes on," he said. "I've got responsibilities that I have every day. It's not on the front page of my mind. I'm looking for happy times."
The Byrd family held a vigil in Jasper on Tuesday, the eve of Brewer's execution.
More than 700 miles away in Jackson, Georgia, the MacPhail family have been long awaiting Troy Davis' execution.
"That's what we wanted, and that's what we got," Anneliese MacPhail, the mother of murdered officer Mark MacPhail, told the Associated Press. "We wanted to get it over with, and for him to get his punishment."
"Justice was finally served for my father," said Mark MacPhail Jr., the officer's son.
Indeed, last-minute appeals were being made to the local district attorney and to the state's board of parole and pardons. Others have suggested asking President Barack Obama to intervene, though he has no jurisdiction in the case.
With only hours before Davis' scheduled execution, the flooding of websites, signatures and phone calls to officials and politicians might not be enough to sway the hands of Georgia justice.
If all goes as planned in Texas and Georgia tonight, two men will die, both by lethal injection. But the circumstances surrounding these two men could not be more different.