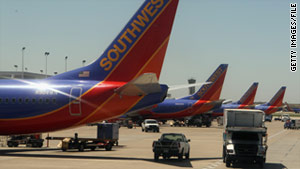 Washington -- An air traffic control supervisor and the crew of a Southwest Airlines jet have been suspended after the controller asked the Southwest Boeing 737 to fly in the vicinity of a small Cirrus aircraft in an effort to check on the welfare of the pilot, authorities said.
The Federal Aviation Administration said the action resulted in the planes getting too close to each other, endangering people on both aircraft.
The incident occurred Sunday evening in the skies over central Florida, according to the FAA.
The pilot of the Cirrus SR22, a four-seat, single-engine aircraft, was flying at 11,000 feet toward Kissimmee but had been out of radio contact with controllers for more than an hour, the
FAA
said.
A controller at a regional FAA radar facility, concerned about the pilot's welfare, contacted the crew of Southwest flight 821, which was flying 10 miles behind the Cirrus, and asked if they could check the cockpit of the Cirrus, the FAA said. The Southwest crew agreed and the controller directed the jetliner toward the Cirrus, the FAA said.
After reporting the Cirrus was in sight, the Southwest crew reported seeing two people in the cockpit. The Southwest flight turned away and the controller directed the plane to its destination, Orlando International Airport.
Both planes landed safely.
The FAA said Monday it had suspended the controller, saying that preliminary information indicates there was a loss of required separation between the two aircraft. Planes flying at that altitude must remain three miles apart horizontally and 1,000 feet vertically. The FAA declined to say how close the two planes came, saying that is part of its investigation.
Aviation authorities say the protocol for intercepting unresponsive aircraft is to scramble military jets.
"By placing this passenger aircraft in close proximity to another plane, the air traffic controller compromised the safety of everyone involved," FAA Administrator Randy Babbitt said in a statement. "This incident was totally inappropriate."
"We are reviewing the air traffic procedures used here and making sure everyone understands the protocols for contacting unresponsive aircraft," Babbitt said.
The FAA suspended the air traffic controller, and Southwest Airlines has suspended the captain and first officer on Flight 821, pending the outcome of the investigation.
Southwest Airlines said the flight had 137 passengers and a crew of five. The flight originated in Phoenix and landed in Orlando.
This is the second time in less then a month the FAA has suspended an air traffic controller. A controller supervisor at Reagan National Airport near Washington was suspended after two aircraft were unable to contact him while attempting to land at the airport. The controller later told investigators that he had fallen asleep, according to the National Transportation Safety Board, which is investigating the incident.