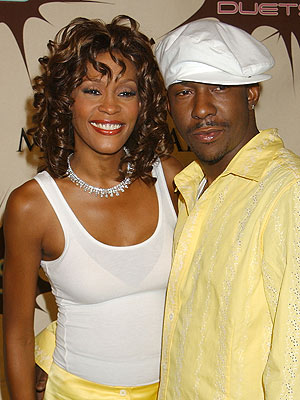 Upon hearing of
Whitney Houston's death
on Saturday, her ex-husband, Bobby Brown, immediately began calling friends and family.
"He wanted to tell everyone about it before it hit the news," one of his relatives tells PEOPLE. "He didn't want any of us to hear about it on television."
As Brown spoke to family members, the shock of Houston's sudden death turned to grief. "He could hardly get the words out when he called me," says the relative. "He was sobbing, and by the end of the call, I was sobbing too. He's beside himself right now."
Brown has had no official comment on the death of Houston. A source tells PEOPLE that Brown learned the news about his ex-wife while in Memphis, where he is currently located for a New Edition concert. He is "shattered and beyond devastated," says the source.
Houston's passing was confirmed by her publicist, and Beverly Hills Police Lieut. Mark Rosen told PEOPLE on Saturday that the 48-year-old singer "was pronounced dead at 3:55 p.m. this afternoon at the Beverly Hilton Hotel," following a 3:43 p.m. call from hotel security.
The best-selling pop artist wed soul crooner Bobby Brown in 1992 in a marriage that surprised many, given Brown's bad-boy reputation. The following year, the couple welcomed a daughter, Bobbi Kristina.
After a tumultuous relationship that included a charge of domestic abuse against Brown in 1993, the two divorced in 2007.
Despite their breakup, the couple remained friendly, the relative tells PEOPLE. "They had Bobbi Kristina in common, and were determined to be co-parents to her. They didn't hate each other. In fact, there was a lot of respect. So this has hit Bobby really hard. He is devastated. He loved her very much. This is a very sad time for him."
•