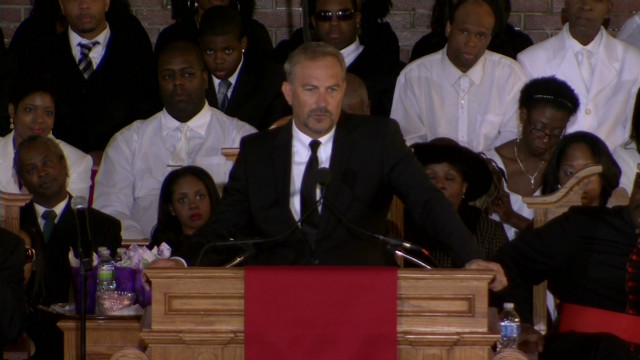 Newark, New Jersey
-- Family, friends and fellow stars remembered Whitney Houston's voice, love and -- most of all -- faith at her homegoing service Saturday at the New Jersey church in which she grew up.
A "who's who" of musical performers adapted lyrics in tribute to Houston, who died a week ago at age 48.
Virtually everyone in the program spoke of Houston's Baptist background and beliefs.
Patricia Houston, the singer's sister-in-law and former manager, said Houston retained her love for God.
"In her final days, she held on to what you taught her to believe in," Patricia Houston said. "I promise you she did."
Actor Kevin Costner received a standing ovation after he spoke of Houston's courage when she tried out for a starring role in the 1992 movie "The Bodyguard."
Speaking at the service in Newark, Costner recounted his own second thoughts of putting her up for the role. She was a novice, he said, and the studio had questions of whether choosing a person of color would be good for the box office.
Doubts began to spread to the young entertainer.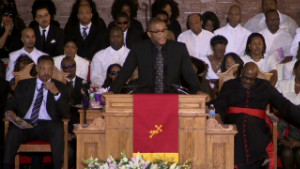 Tyler Perry: 'Whitney loved the Lord'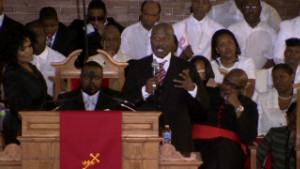 BeBe Winans: I'll miss 'crazy Whitney'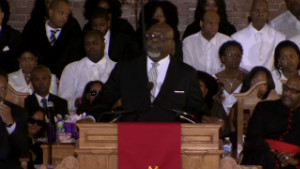 Jakes on Houston: Love will last forever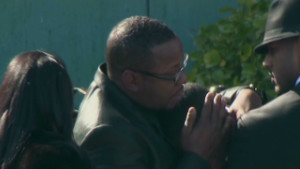 Bobby Brown comforts friend at funeral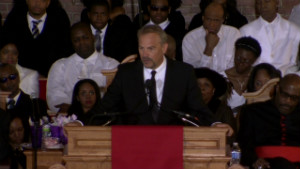 Costner: Whitney 'perfect' for Bodyguard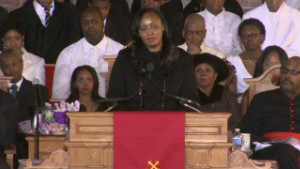 Whitney's special gift was 'giving'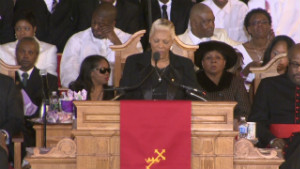 Warwick on Houston: God wanted her now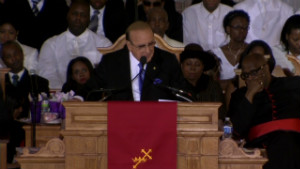 Clive Davis: Whitney was one of a kind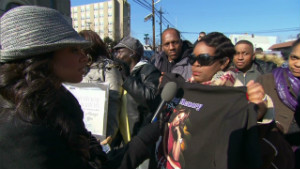 Fans remember Whitney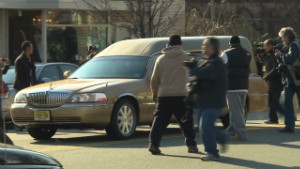 Whitney Houston hearse arrives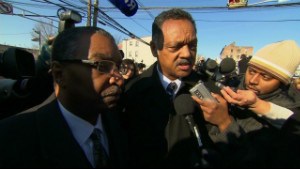 Jackson: 'We feel such awesome pain'
In the end, Costner said, Houston nailed the tryout and went on to further fame and success.
"So off you go Whitney, off you go, escorted by an army of angels to your heavenly father," Costner told mourners at the funeral. "And when you sing before him, don't you worry. You'll be good enough."
Houston's casket, covered with a large spray of flowers, rested in front of the altar at New Hope Baptist Church during the three-and-a-half hour service.
At the conclusion, her iconic recording of "I Will Always Love You" was played as her coffin was removed. Her mother, Cissy Houston, leaned on her escorts as they helped her down the aisle. As she followed the casket, the sounds of her late daughter's voice filled the church.
While many of her fans lamented the fact that Houston's service was invitation-only, Pastor Marvin Winans, who delivered the eulogy, thanked Houston's mother for having the service at the church. "That took a lot of courage. And because of that you brought the world to church today," he said during his eulogy.
Clapping and swaying mass choirs opened the midday homegoing service, performing rousing versions of gospel standards.
Gospel singer and friend Kim Burrell sang a reworked version of Sam Cooke's "A Change is Gonna Come," adding glimpses of Houston's life to the lyrics. After finishing, she walked down to the pew where Cissy Houston sat and embraced her.
One of the most emotional moments in the service was Alicia Keys singing "Send Me an Angel," her voice soaring into the rafters of the sanctuary.
Stevie Wonder, who sang "Ribbon in the Sky" -- adapting it to refer to Houston -- said millions will continue to love the late singer. R. Kelly sang "I Look to You" -- one of Houston's last hit songs -- and CeCe Winans, of the Winans music family, performed "Don't Cry for Me" and "Jesus Loves Me."
Speakers, including Bishop T.D. Jakes and director-producer Tyler Perry, spoke of Houston's faith -- and the promise of tomorrow.
Jakes delivered, to applause, a message of victory over death.
"Death has not won. Your tears may flow. The flowers might wither," he said. "You will find people you love may leave you outwardly, but (they) will not leave you inwardly."
Houston's cousin, singer Dionne Warwick, introduced performers and speakers, including Perry.
"I am completely thankful to God for all he has done her life," Perry said. "There is a grace that kept on carrying her. ... Whitney Houston loved the Lord."
Oprah Winfrey, Mary J. Blige, Mariah Carey, New Jersey Gov. Chris Christie, Spike Lee, and Houston's former husband, Bobby Brown, were among those on hand. Brown walked by Houston's casket with his head down before the service began. Police said Brown and his entourage later left the church during the service.
Guests held in their hands an invitation with a cover featuring a photo of a smiling Houston. The six-page funeral program contained color family photos and a letter from Cissy Houston.
The letter included the message, "God said 'It's time, Nippy (Whitney's childhood nickname). Your work is done.'" It was signed, "Thanks for being such a wonderful daughter. Love, Mommie."
Music executive Clive Davis, credited with discovering a young Whitney Houston in 1983, told mourners that the late pop superstar "stepped forward and shattered" him when he heard her perform "The Greatest Love of All" for the first time.
Gospel singer and longtime friend BeBe Winans was visibly emotional as he recalled a memory of Houston's love for his family and her sense of humor.
With his sister, CeCe Winans, by his side, he told the story of how Houston, then a major celebrity, informed them of her intent to sing background vocals on their new tour. When they told her she was too big a star to do that now, Houston responded, "You're my brother and sister, right?"
The exchange went on for a few minutes and then Houston told them, "Y'all broke, right? I'm rich, right? So I can buy what I want to for y'all."
Winans, still emotional, said that is the Whitney Houston he would remember. Then he sang, "I Really Miss You."
Ray Watson, Houston's bodyguard, recalled some of his final interactions with the singer.
"In our final days, she came in my room and she began to speak biblically," he said. "She laid her head on my shoulder and said, 'We are gonna be all right.'"
"Queen of Soul" Aretha Franklin, who was scheduled to sing "The Greatest Love of All" at the service, had leg spasms and could not perform or attend the service, she said in a statement. Franklin performed a tribute to Houston Friday night at Radio City Music Hall in New York.
Never-seen photos of teenage Whitney Houston
Under bright sunshine, a golden hearse with a black-and-white picture of Houston carried the singer's body to the red-brick church Saturday morning. She will be laid to rest Sunday at the Fairview Cemetery in Westfield, just south of Newark.
Balloons left in front of the church by adoring fans bobbed in a soft breeze.
A cake in the fellowship hall, given by fans, read, "The Greatest Love of All," the title of one of Houston's many hits. The heart-shaped cake was adorned with red roses and lilies.
Guests at the service arrived on a black carpet, went to the church fellowship hall and were escorted to their seats by ushers dressed in black suits and purple ties.
"There is a sense of sadness," the Rev. Jesse Jackson told HLN, CNN's sister network. "We lost a lot."
Some 1,500 people were expected at the service.
A perimeter was set up around the church by police, for four blocks in two directions and two blocks in the other directions. The closest the public was able to get was a staging area two blocks away.
Police said the best way for fans to share the experience was through television and the Internet.
Houston, the six-time Grammy Award winner and the only artist to chart seven consecutive No. 1 hits, died February 11 in Beverly Hills, California. She is survived by her mother and daughter, Bobbi Kristina Brown, 18.