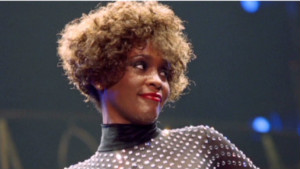 Los Angeles
-- A hearse and a large police procession arrived just before midnight Tuesday at a New Jersey funeral home that is handling the funeral arrangements for Whitney Houston.
The hearse was escorted by police from Teterboro Airport to Whigham Funeral Home in Newark as a large crowd gathered. Cissy Houston, Houston's mother, was inside the funeral home, waiting, police said.
And as Houston's grieving family members prepared for her funeral, the exact cause of Houston's death remained a mystery.
Despite widespread media speculation, a Los Angeles County coroner official Monday downplayed the suspicion that drugs played a major role.
Assistant Chief Coroner Ed Winter said that "not many prescription bottles" were found in the singer's Beverly Hilton hotel room after her death. The amount of medications recovered by investigators was less than usually present in deaths attributed to overdoses, Winter said.
"I know there are reports that she maybe was drowned or did she overdose, but we won't make a final determination until all the tests are in," he said. Winter ruled out foul play and said there were no injuries to her body.
There were more questions than answers Monday about Houston's sudden death, as authorities were offering few details. The singer's soaring voice and impressive talent had taken a back seat in recent years to her struggles with drug addiction.
With the autopsy completed Sunday, Houston's body was released to her family Monday, Winter said.
A source close to Houston said Monday after her body was flown to her native New Jersey, a funeral service will be held there Friday or Saturday.
Authorities have not released a cause of death pending toxicology tests, which should be be available in six to eight weeks.
"We do not know (the cause) yet," Winter said. When it is known, the coroner's office will notify police and Houston's family, he said.
Winter said Sunday that no additional details, including what was discovered in Houston's room, would be released.
Beverly Hills police have requested a "security hold" on the coroner's report, a common practice in high-profile cases that limits what can be revealed about an investigation while it is ongoing.
Reverend: The Whitney I knew
Asked how long Houston had been dead before she was found, he said she was seen by someone -- a family member or someone at the hotel -- within an hour of her death.
Winter confirmed reports that Houston was found in the bathtub of her hotel room. "I believe somebody removed her from the bathtub and the paramedics did CPR on her," he said Sunday
Whitney Houston: A mother, a daughter, a friend
A singer who participated in an impromptu duet with Houston at a party two days before Houston's death said Monday that she noticed nothing amiss and the superstar was "upbeat and joyful."
"She did not seem disheveled. She was dancing; she was laughing. ... We were having a good time," said Kelly Price.
"What I saw on Thursday night was not erratic behavior. I didn't see someone who was high."
Price said the party was held to celebrate her Grammy nominations. During the party, Houston took the stage unexpectedly and sang a hoarse rendition of "Jesus Loves Me" with Price.
Price told CNN's "Starting Point"
that Houston's voice is "naturally raspy," but "she sounded good on Thursday night."
She acknowledged that Houston did have champagne, which "was flowing" at the party, and said she was glad to see her friend happy. "It was a genuine moment of celebration," she said.
"She was in good spirits leaving the club," Price said. "Yes, she was a little messy, as I was, as every other person was at 2, 3, 3:30 ... in the morning after having sung half the night, danced half the night."
Price said she never expected to receive the call Saturday that Houston, 48, was found dead in her suite at the upscale Beverly Hilton, just hours before she was to attend another pre-Grammys party at the hotel.
Meanwhile, a source close to the family said Monday that Houston's 18-year-old daughter, Bobbi Kristina Brown, was taken to Los Angeles' Cedars-Sinai Medical Center twice after her mother's death -- once on Saturday night and then again on Sunday. She was treated for stress and anxiety, the source said.
Kim Burrell, a gospel singer and Houston's friend, said she was with the teenager late Saturday and said the girl had felt "overwhelmed." But Burrell expressed confidence that "she'll pull through."
Bobbi Kristina Brown was born during Houston's marriage to singer Bobby Brown, which ended in divorce in 2007.
As late as Monday morning, remembrances continued to pour in from around the world.
Nelson Mandela issued a statement extending his condolences to Houston's family and friends. He recalled how she dedicated her performance of "Greatest Love of All" to him during a White House dinner in his honor in October 1994.
"May she rest in peace," the statement said.
Songstress Celine Dion, speaking on ABC's "Good Morning America" in regard to rumors that Houston's death might have been connected to prescription drugs, admitted that she stays away from the "show business" scene because of its risks.
"It's just very unfortunate that drugs and, I don't know, bad people or bad influence, took over," Dion said. "It took over her dreams. It took over love and motherhood. ... When you, you know, you think about Elvis Presley and Marilyn Monroe and Michael Jackson and Amy Winehouse, I mean, to get into drugs like that for whatever reason ... what happens when you have the love, the support, family, motherhood, you have responsibilities of a mother and then something happens and it destroys everything?
"There's something that happens that I don't understand," she said, "and that's why I'm so scared. I'm scared of show business. I'm scared of drugs. I'm scared of hanging out. And that's why I don't do parties, and that's why I don't hang out. That's why I'm not part of show business, because we have to be afraid."
Brown was swarmed by media when he arrived at Los Angeles International Airport on Sunday night after pulling out of a performance with his group New Edition in Nashville, Tennessee, in the wake of the death.
Brown did not take any questions and was whisked into a waiting limousine.
The night Houston died, he was openly emotional during a concert in Southaven, Mississippi, said attendee and CNN iReporter Moshiu Knox, at one point asking people to say a prayer for his daughter, for his mother and "for me, because I'm going to need it."
"Bobby was crying during his performance and at one point had to walk off stage," Knox said.