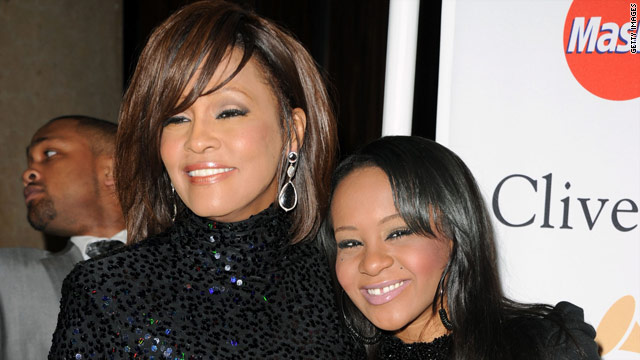 Somehow we missed this for the past few days: If you haven't seen it, we present to you a Twitvid of Bobbi Kristina, daughter of singers Whitney Houston and Bobby Brown.
The 18-year-old submitted an a capella rendition of Adele's "Someone Like You" - a.k.a., the song most likely to be covered by any and everyone in 2011 -
via Twidvid
over the weekend, and about 192,000 have tuned in for a listen.
Obviously, having Whitney for a mom and Bobby "It's My Prerogative" Brown for a dad, there's probably no small amount of pressure resting on Bobbi to have a set of strong pipes. The reaction to the video has been mixed, with some writing words of adoration and others advising her to get in some practice.
Either way, the teen has thanked her listeners, tweeting Sunday, "Good afternoon all! Eeeek been hearing A LOT about that little tiny video I put up. That was a joke, just wanted you all to hear me once....REMINDER. The video was a joke. Playing around. No one get serious. Lol some [people] are so cruel. But those [people] motivate me."
For those who enjoyed the clip, "IF I keep singing, you ALLL will hear A LOT more from me," she promises. "WAYY BETTER, TRUST me. Hope the lover's of the world are READY!"