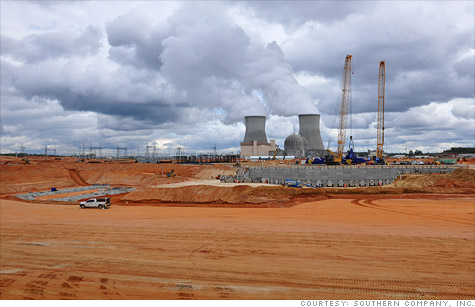 NEW YORK -- The U.S. Nuclear Regulatory Commission approved licenses to build two new nuclear reactors Thursday, the first authorized in over 30 years.
The reactors are being built in Georgia by a consortium of utilities led by Southern Co. (
SO
,
Fortune 500
) They will be sited at the
Vogtle nuclear power plant complex
, about 170 miles east of Atlanta. The plant already houses two older reactors
The 5-member NRC voted in favor of the licenses four to one, with Chairman Gregory Jaczko dissenting.
Jaczko said the new licenses don't go far enough in requiring the builders to incorporate lessons learned from the Japanese nuclear disaster last year.
Although new nuclear reactors have come online in the United States within the last couple of decades -- the last one started operation in 1996 -- the NRC hasn't issued a license to build a new reactor since 1978, a year before the Three Mile Island accident in Pennsylvania. Reactors that have opened in the last decades received their initial licenses before 1978.
The combination of the Three Mile Island incident and the high costs of nuclear power turned many utilities away from the technology.
The utilities building the new Vogtle reactors submitted their application seven years ago. Prep-work at the site has been under way for some time, but construction on actual reactors couldn't begin until the final license was issued.
The new reactors are a Westinghouse design called the AP 1000. Together they are expected to cost $14 billion and provide 2200 megawatts of power, according to a spokesman for Southern Co. That's enough to power 1 million homes.
The plants are being built with the help of a conditional $8.3 billion loan guarantee from the Department of Energy. The loan guarantee is part of
DOE's broader loan program
that has been criticized for backing companies like Solyndra, the bankrupt maker of solar panels.